There are some indisputable truths about Christmas in New York. The first is, traffic multiplies in a way that would defy Stephen Hawking's ability to calculate. The second is, tourists descend from all over the globe with digital cameras and Flip video recorders en masse, and I am always the "kind stranger" selected to shoot the group for posterity. And third, my friend Cam is bound to telephone and ask me to accompany him to some "new and magical" wonderland.
Cam loves Christmas. I know everyone loves Christmas, but Cam loves it more than most. Being rather portly, he has played the part of Santa at various youth groups and at hospitals around the country. Cam is a gypsy at heart and has moved a bit in his life, and he has a checkered career path. Like he always says, his résumé should be printed on plaid paper—there is just so much to check off and check up on!
This year, right after Thanksgiving, Cam phoned and told me that we were about to embark on the greatest venture of all. I've been to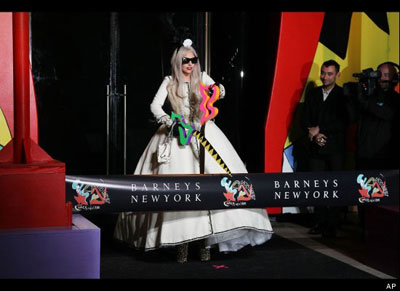 holiday drag shows with him—"Times Square Angel," starring the magnificent Charles Bush was the best; I've accompanied him to the interactive "It's a Wonderful Life," where the audience acts out all the legendary parts; and we've even participated in both the "Messiah" sing-along and its more edgy, urban rap-along. I couldn't imagine what was at the top of his list this year.
As my wheels were turning—spinning double time—it occurred to me, "Am I going to be gaga over it?" (Lady Gaga—one of Cam's most favorite entertainers—has opened up a Santa's Workshop, of sorts, at Barney's department store in NYC. I knew this was where we would be dashing through the nonexistent snow! Manhattan has been uncharacteristically warm this year.)
However, he surprised me by saying, "No, that's the second greatest place this year. I promised you the greatest."
And then he told me where. And I must say . . . he was right.
Being a highly verbal, highly social guy, Cam has an enormous coterie of friends. Over the past year, he has befriended a gentleman who is in very frail health. Being elderly and alone, Cam's new friend recently gave up his apartment and has moved into a nursing home. Cam has been visiting him and has been raising the spirits of all the other residents at the facility. ("I am channeling my inner Gaga," he admits.)
One of the things he discovered is that many of the women patients and female residents at the home are upset over having to downsize to live in shared, smaller living spaces. They miss many of the items they have had to give away, sell, or simply discard. A lot of the missed belongings are collectibles, and that is where Cam and I come in.
"You know 'Toys for Tots'? This is 'Stuff for Seniors'!"
And, indeed, it was. Cam requested that I bring a good-condition doll or bear or snow globe (one of the many things that I collect) to gift to a senior citizen this year. Cam knows a lot of people, and these people own a lot of things.
Whereas we all fret and fuss about having too much, and not enough space to showcase everything, in our heart of hearts, most of us are glad that we have our collectibles near at hand.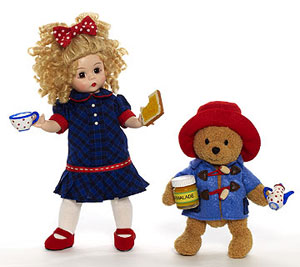 How sad if a person is forced to leave a home, where their memories and mementoes—their moments of happiness and sorrow, joys and challenges—all occurred to move into a dormitory-style complex and to begin to make new friends. Most heartbreakingly, this transition into a new living environment occurs while their family members—and other "loved ones"—often leave them alone and unvisited.
"Don't bring anything too enormous," Cam warned. "There's not space for it, but there is room in a dresser drawer on top of a bureau for an Alexander 'Wendy' or a Mattel Kelly or a Mini Cali baby doll. There's always room for those."
And Cam was so correct. Going through my home that is filled with dolls that once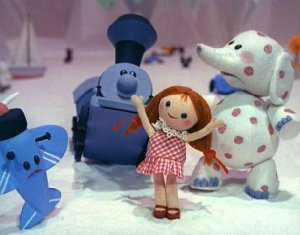 held an allure for me, but have since faded, it brightened my spirit to think that these dolls could find a second life and a second chance. And since they are coming from the home of a collector, these dolls are pristine: in perfect, hermetically sealed, mint-in-box condition. In many cases, they have never been held.
"Keep in mind, we don't want any Island of Misfit toy rejects. Oh, well, maybe just the cute dolly and the polka-dotted elephant," Cam laughed. "It is the season for being forgiving."
Dolls and bears and all other holiday stocking stuffers are celebrated as the trappings of an ideal childhood Christmas. However, for many people who are of a "certain age," the appeal and the hug-ability of a stuffed toy or doll is still just as strong as it is for their younger counterparts.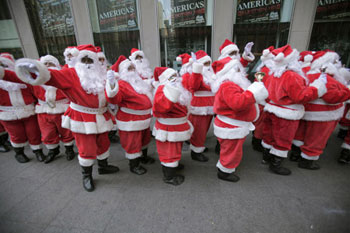 For a lot of these elderly people, Christmas is a date on a calendar where the hallways are extra quiet and the paper decorations are frayed and forlorn.
If there are any senior centers in your neighborhood, consider finding out if any of the residents are former collectors and if they would like a little Christmas pick-me-up.
The chance to have your doll or bear being an ambassador of goodwill is so gratifying. And at a time where goodwill is sung about and written about, how sweet it is to actually experience it.
Yes, Virginia, there is a Santa Claus. And in the tri-state area this year, his name is Cam.