By Karen B. Kurtz
Photos by Mark A. Kurtz except where indicated
Britain's royal family has been riding a wave of popularity since Prince William's wedding to Catherine Middleton in 2011. Prince Harry's marriage to Meghan Markle only heightened the excitement. During royal celebrations like weddings, coronations, jubilees, and births, the world loves to celebrate with the British.
Collectors understand that the roots of British heritage are forged during these important times. Shuffling paper dolls around, rearranging them, highlights important historical milestones. A simple file system or tub is the only place where King Henry VIII can rub elbows with Lady Diana or the rarely remembered queen consort Alexandra. Preserving tiny tidbits of fragile paper captures the characteristics of a people, the sum total of their ways of living.


Reigning Queens
The late artist Tom Tierney created more than 400 paper-doll books for Dover Publishing, many on the British royals. He enjoyed a long career as the foremost paper-doll artist of all time, illustrating a veritable Who's Who of royals, celebrities, and fashion icons. He singlehandedly revived the lost art of paper-doll making.
Tierney's prolific output includes a lavish portrayal of the three queens who have ruled the British Empire since 1588: Queen Elizabeth I (1533-1603), Queen Victoria (1837-1901), and Queen Elizabeth II (1953-present). Queen Elizabeth I was the daughter of King Henry VIII and queen consort Anne Boleyn. Tierney depicted Elizabeth I and Victoria as youthful queens-in-waiting and then mature, elaborately dressed women, with costumes engineered to convey wealth, authority, and power.
Victoria inherited the throne at age 18 after her grandfather, King George III, and her father, Prince Edward, died. Victoria gave credibility and respect to the monarchy. The esteem and popularity the British royal family enjoys throughout the world today is due primarily to her influence.
"Queen Victoria created an entire era of history that lasted most of the 19th century," said artist John Axe in "Royal Children Paper Dolls: Queen Victoria to Queen Elizabeth II," Hobby House Press, 1989. "Her personal tastes and strong opinions about the relationship between the monarchy and the government, between England and the world, are still remembered today."
Five of Victoria's descendants became monarchs. Her great-great-granddaughter Elizabeth Windsor knew at age 10 she would become the next British sovereign. Queen Elizabeth II ascended the throne after Kings George VI and Edward VIII.
Her father, George, died in 1952. Earlier, in 1936, her uncle Edward's radio speech seemed to touch every heart: "I have found it impossible to carry the heavy burden of responsibility and to discharge my duties as king as I wish to do, without the help and support of the woman I love," he said, upon abdicating the throne. The Duke of Windsor lived in exile with his Duchess, Wallis Simpson, for the rest of his life.
On a happier note, Elizabeth met Prince Philip of Greece and Denmark when she was 13. They married in 1947 and have been married for more than 70 years — the longest marriage in the history of the British monarchy.
The Queen is gracious and intelligent, a woman with heart. She trained as a mechanic-truck driver in World War II and served in ordinary battle fatigues. Today Elizabeth II serves as a symbol of her country at home and a goodwill ambassador abroad, but she retains certain governmental powers and the right to be informed of all governmental action. She is passionate about corgi dogs and racehorses.
Lady Diana
Who can ever forget Lady Diana, the most beloved royal of all time? Diana made the world a better place through her kindness by lending royal prestige to victims of unfashionable afflictions. She championed their causes and spoke courageously about her own demon — a lifelong struggle with bulimia. In the early days of the AIDS epidemic, when people misunderstood the disease, Diana said, "HIV does not make people dangerous to know, so you can shake their hands and give them a hug. Heaven knows they need it."
She blazed the trail for her sons Prince William, Duke of Cambridge, and Prince Harry, the new Duke of Sussex. Diana's influence was strong. With continuing love from their father Charles, Prince of Wales, the teenagers emerged mature, serious-minded, and attractive men in whose hands the Windsor dynasty seems safe for the moment.
Diana was a fashion icon whose style is still emulated by designers, celebrities, and fashionistas. Singer Rihanna, in a 2013 interview with "Glamour," spoke for many when she said, "Diana killed it. Every look was right. She was gangsta with her clothes. She had these crazy hats. She got oversize jackets. I loved everything she wore!"
Diana's style of dressing was based on the royal family's demands and popular British trends. Diana chose dresses with floral collars, piecrust blouses, and pearls, which rapidly became fashion trends. On diplomatic trips for the Queen, Diana's clothing and accessories matched the traditional costumes of the countries she visited. Off duty, she preferred loose jackets and jumpers.
She did not wear gloves because they prevented direct communication with people. She knew colorful dresses and jangling jewels interested children, so she could play easily with them in hospitals. She did not let her clothes wear her.
After her divorce, Diana's confidence increased. Her style shifted to new choices in blazers, off-the-shoulder dresses, two-toned themed suits, military-styled suits, and nude-colored outfits. She also liked white shirts with jeans, plaid dresses, and sheath dresses. Diana's favorite designer, the late Catherine Walker, created a fluid silhouette that flattered Diana's slender frame. It was a timeless look for Diana — a royal uniform, if you like.
The Earl Spencer, Diana's brother, said she "proved in the last year [of her life] that she needed no royal title to continue to generate her particular brand of magic."
Collectors and historians appreciate artwork that "shows how Diana's life evolved from a gauche 19-year-old who only owned one dress to a fashion icon," said Lorna Currie Thomopoulos, the London publisher of Europe's only paper-doll magazine, "The Paperdoll Circle." "Clothes are a connecting language. How you dress is part of the joy of life and boy, did Diana spread the joy!" she said.
"Many paper-doll artists have paid tribute to Diana, but Tom Tierney's books have garnered the most notoriety," said Jenny Taliadoros of Kingfield, Maine. Jenny publishes two magazines, "Paper Doll Studio" and "Paperdoll Review." "Paper Doll Studio" displays artwork from members in The Original Paper Doll Artists Guild. "Paperdoll Review" is devoted to the nostalgia of paper dolls. Jenny also owns Paper Studio Press, a publishing imprint for paper-doll books.
"Tom did 'Princess Diana & Prince Charles,' 'Royal Weddings,' 'Royal Family of Britain,' and 'Diana Princess of Wales: The Charity Auction Dresses,' and he did them very well," Thomopoulos agreed. "But self-published artists create wonderful work too. Ralph Hodgden, Eileen Rudisill Miller, and Sandra Vanderpool, in particular. Now Taliadoros has added beautiful new books to the genre.
"Interestingly, British publishers are slow to take advantage," Thomopoulos continued. "World International did four lovely Diana books in the 1980s. Courtier Fine Art covered the wedding. ASHCO produced a set with a large 15-inch Diana doll. Then others arrived on the scene. Carlton produced 'Kate and Pippa Dress-Up Sticker Book' and Penguin/Sunbird did 'Will & Kate's Dress-Up Dolly Book.'"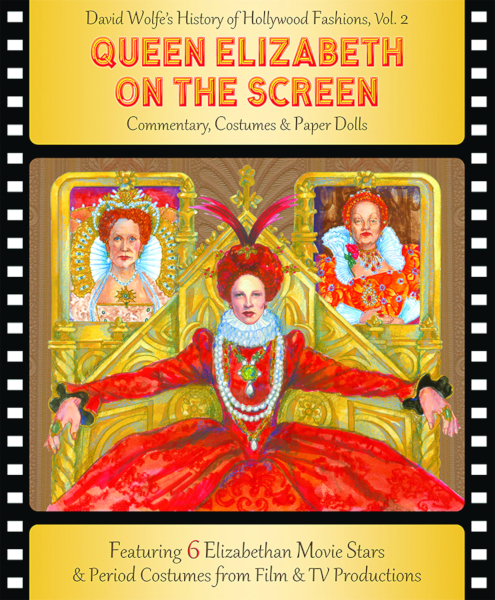 More Royal Releases
Others interesting paper-doll books include "Kate Middleton," with museum-quality artwork by Norma Lu Meehan; three books by fashion authority David Wolfe ("Fashion Icons: Princess Diana and Jacqueline Kennedy," "Queen Elizabeth on the Screen," and "The Queen"); the clever "Reigning Cats and Dogs" by Charlotte Whatley, and one of the newest, "Harry and Meghan" by Eileen Rudisill Miller. All are available at www.paperdollreview.com.
A world fascination with the United Kingdom's premier public relations asset, bolstered by attractive young royals joining The Firm, bodes well for the future. Enthusiasts on both sides of the big pond collect royal paper dolls to study fashion, appreciate beautiful artwork, and deepen their historical perspective. Nostalgia buffs may collect them as we did in childhood: We just loved paper dolls. They were our friends. They were our dreams.
For more about the British royals and European paper dolls, contact Lorna Currie Thomopoulos at forever19@live.co.uk. Royalty is a regular department in every issue of Thomopoulos' magazine, "The Paperdoll Circle," which is a decided advantage for American subscribers who wish to keep up with news not otherwise easily available to them. To order American paper-doll magazines or buy paper dolls, contact Jenny Taliadoros at www.paperdollreview.com. Find out more about Lady Diana's legacy at Kensington Palace at www.hrp.org.uk/kensington-palace.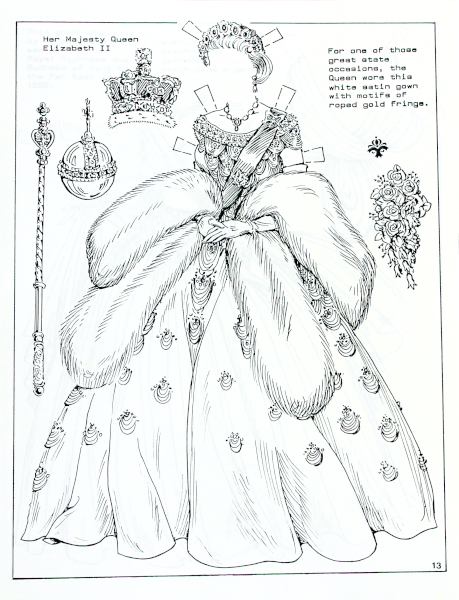 Paper Doll Values
New. Retail prices start at $5 to $13 and go up. Commercially manufactured sets usually have large print runs. Original artist sets have smaller runs, which evaporate quickly, and higher prices.
Secondary market. Dealers and collectors might offer bargains. Learn how to negotiate.
Vintage. Original paper doll books run $50 to $150. Reproductions serve as placeholders until originals are found.
Antique. Antique paper dolls generally double the top vintage prices, depending on popularity, condition, completeness, and more. A "holy grail" begins at three figures and climbs.
Best of the Best. Pristine, uncut sets in any category always bring top dollar.
No scissors. Cut sets should be discounted at least 50 percent off the top price.
Storage. Small-spaced efficiency in archival folders, boxes, and tubs is a huge plus. Seek out articles online for tips on how to store, repair, and preserve paper dolls.