Photos courtesy of Natalie Ruiz
People often say something or someone is larger than life. For most of us — as long as the observation isn't being made about our latest venture onto a scale — the opinion is considered high praise, indeed. For many people (myself included), why strive to be everyday commonplace? Isn't it more fun to have a dash of eccentricity or uniqueness? If it means having to assume a bigger than average personality, so be it. It really does make sense to strive toward over the top rather than stuck in a rut or in the middle!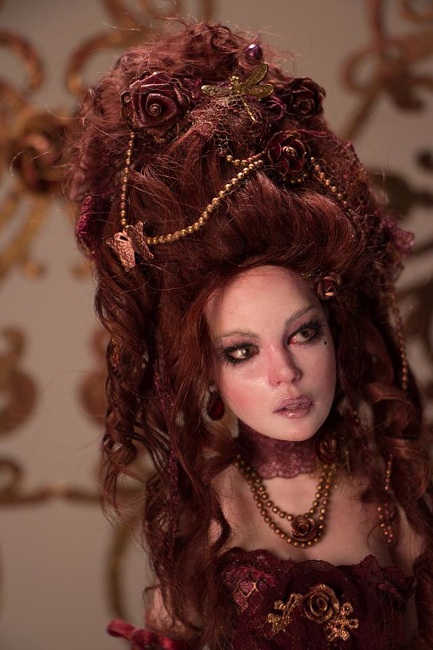 Doll artist Natalie Ruiz reminds me of that goal to be overdramatic and overtly cinematic. Even though her creations are doll-sized, each and every one contains the spirit of amazing heroes and heroines, quirky characters and compelling creatures. Ruiz has that uncanny ability to make a figural sculpture and have it seemingly spring to life.
I had the chance to interview her for the November/December 2017 issue of DOLLS, but not every quote and not every doll could make it into the layout. Per the notion of being larger than life, her prolific outpouring is bigger than any single magazine issue.
Ruiz currently resides in Longmont, Colorado, a town that is within a quick car drive to Denver. The burg is the ideal locale for her to pursue her artistic visions and to live a healthy, happy lifestyle: "We have a spectacular view of the Rocky Mountains, and with at least 300 days of sunshine per year, it is one of the perfect spots for outdoor enthusiasts, so we have lots of visitors! But it's not only the outdoors that makes our hometown attractive, it is the arts-and-crafts scene that has developed over the years."
Living in Longmont for a dozen years, Ruiz fell under the sway of the creative climate in 2009. Eight years ago, she started creating dolls, and began to exhibit them publically in 2011. Selling her first doll at Orlando IDEX that year, she knew she was on the right path for unleashing her artistic leanings. After having made a professional career in the corporate world, she was finding inner peace and satisfaction with her figural sculpting. Her initial hobby — doll making before it became her one-of-a-kind business — melded well with the Longmont downtown scene.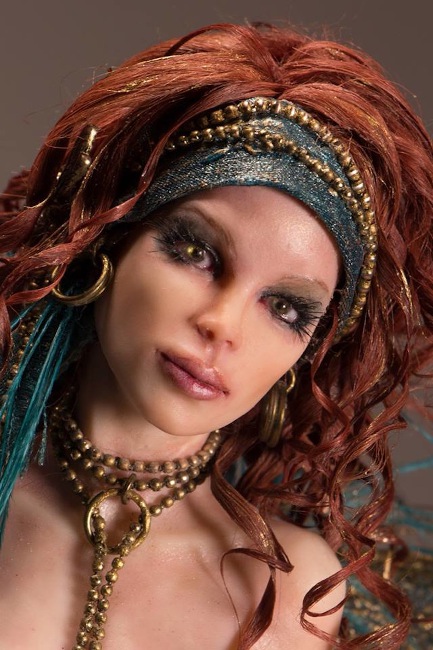 "Our Creative District features dozens of venues like galleries, art exhibits, and art walks. We have shops, restaurants, 15 craft breweries, distilleries, and a cidery. You honestly can say there is always something brewing in downtown Longmont. My hometown is clearly a location where you can see creativity in action," Ruiz pointed out. "It looks like a nice place to be for a doll maker! And it really has become that."
It also holds a unique spot in her heart — a one-of-a-kind emotion — because it mirrors Munich, Germany, where she lived prior to moving to Colorado in 2003. Ruiz was born and raised in Germany, in a city called Koblenz, which lies at the cross-section of the Rhine and Moselle Rivers. Because of her artistic bent — her connection to fantasy, myths, and storytelling — she reveals how "Koblenz is close to the rock from where the legendary Lorelei lured the sailors!"
For anyone not familiar with that lovely term, a Lorelei is a female water spirit. It's been told that this mermaid-like creature had a beautiful, alluring singing voice. She would perch atop a rock and use her siren call to lead hypnotized sailors, fishermen, and navigators to their deaths. How fascinating to think that this mythical landmark was near her childhood home. How even more fascinating to understand that this is a bit of historical, geographical trivia that she can pull out of her pocket! It helps to make her oeuvre of legendary and fantastical characters understandable and logical.
Growing up in Koblenz, a city that has a history more than 2,000 years old, she and her friends played amid the Roman ruins, scampering past medieval church spires and foreboding castle walls. It was a world that combined ancient artifacts with mythological mysteries. It was the ideal feeding ground for her artistic roots to take hold.
Ruiz's parents were both talented free spirits. Her father was a professional touring musician, so she and her siblings would hit the road and wend their way across Europe with her mother and father. The other musicians would also travel with their families, so Ruiz grew up surrounded by a caravan of creativity. Her brothers gravitated toward music, while she immersed herself in drawing and then making different costumes or accessories for her childhood dolls. "I was making them to different characters," she has remarked.
"Fantasy in general takes us all to different places. I believe that everyone needs to escape their reality occasionally, to function properly," Ruiz theorized. "Fantasy also brings back the same magic we could feel and see as a child. This is what I think we secretly wish back into our lives, even as adults."
In her current Colorado home, Ruiz is joined by her husband and son when she takes her flights of fancy. Her husband, Joe, is the designated gadget master and overseer of her website and social media. Her son, Marc, encourages her to spread her wings and explore the sci-fi segment known as SteamPunk. "He has a very aesthetic eye and I value his critique on my figures as much as I appreciate his crazy ideas when I work on my SteamPunk projects."
Interestingly enough, it isn't just the bold frontier of science fiction and the classical villains and gods of Old World myths that have influenced and inspired Natalie Ruiz. Surprisingly, a TV show of the 1960s spoke to her loud and clear:
"Do you remember the sitcom 'I Dream of Jeannie,' starring Barbara Eden as a bottle-dwelling genie? Whenever I saw this show as a kid, I wished that I could be so small that I could fit into her bottle! Jeannie has probably inspired me to make some of my pieces. Giving my dolls a surrounding or a dwelling supports the story about them, which I have created, and makes the piece complete for me."