I like history. To me, it is like the best of storytelling, because I subscribe wholeheartedly to that theory "Truth is stranger than fiction." In school, I always excelled at literature and history, since I viewed both subjects as working hand-in-hand. A nation's history and culture and society impacts its writers, and its writers help to shape how citizens and visitors view the history. You see, it is all hand-in-glove.
This month marks a rather sobering anniversary for one of history's most infamous and debatable characters: Maria Antonia Josepha Johanna, better known as Marie Antoinette. On October 16, 1793, Queen Marie Antoinette met her Maker when she was beheaded at the Place de la Révolution. Found guilty of high treason and sentenced to execution via guillotine by the Revolutionary Tribunal — talk about NOT getting an impartial jury — she was 37 years old when she was killed, a month shy of her 38th birthday.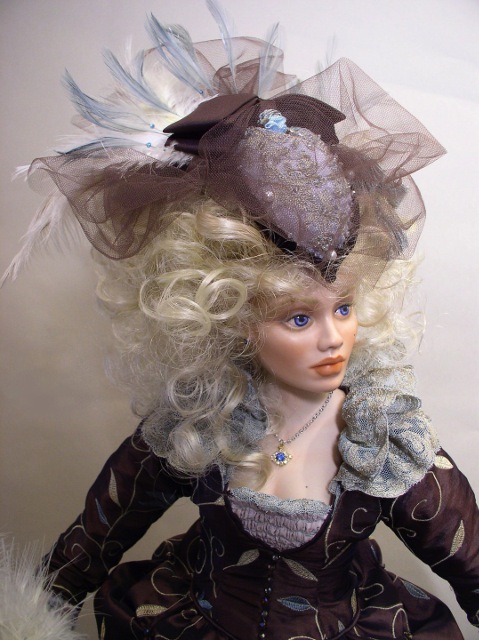 The legend of Marie Antoinette has wound itself around history, mythology, and gossip. She has been portrayed as a hedonistic, indifferent monarch who held masked balls while the French population starved and eventually rioted; she has also been depicted as a young woman who was not suited to be a queen but rather had her natural good tendencies corrupted and overtaken by court intrigue. The truth about Marie Antoinette probably lies somewhere in between.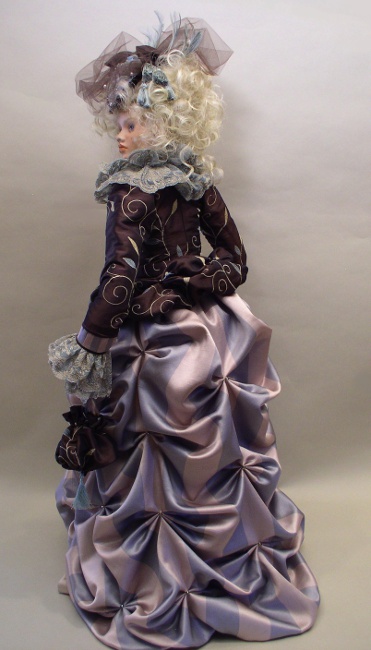 This month, TCM Watch (a free app that I highly recommend you download) had the Norma Shearer version of the queen's life available for viewing. The 1938 treatment of her life before the throne, during her imperial reign, and then her date with destiny is very sympathetic to the doomed royal. Shearer has a field day in the part — traipsing about in gravity-defying wigs and enormous hooped skirts. Her bosom rises and falls as her fortunes ascend and crumble.
Doll artist Monica Reo, who shares my affinity for the past and for great sweeping costume epics, has just unveiled her doll doppelganger of the haughty French queen. Like the Norma Shearer movie, Reo has an empathetic attitude toward the controversial queen. "Her life had a tragic end because she was wrongfully accused of treason," Reo told me. "She had a colorful, albeit brief life. She had a fairy-tale village built for her and her ladies-in-waiting on the palace grounds in Versailles. It was a flamboyant and elaborate utopian hamlet complete with lakes, gardens, cottages, and a quaint farmhouse. This type of overly extravagant expense certainly did not endear her to the starving French peasants, some of whom had loved her at one time."
During the late 18th century, a romantic view of the pastoral life had taken hold of France. The notion of the happy peasant toiling in the warm, life-giving sun was a trope that the French court, their painters, their seamstresses, and their hangers-on all adopted. Jean-Honoré Fragonard was one of the most celebrated painters of this time, and he helped to promulgate this veneration of bucolic, rustic life. One of his most famous works ("The Swing") is like a modern-day meme. It was an image that was copied and distributed everywhere!
With very deep pockets (courtesy of the French revenue system), King Louis XVI indulged his queen and her girlfriends' request to play shepherdess. He funded the building of the oh-so-precious Petit Hameau.
The decision to construct a retreat where the wealthiest folks could congregate for dress-up enraged the man on the street (or as the French would say, L'homme de la rue). With France teetering on economic collapse and drowning in debt, the high life of the high court did not sit well with the individuals who were footing the bills. Suspicion and anger turned to allegations and rebellion.
"That callous quip that history claims Marie uttered, 'Let them eat cake,' was really recited by indifferent royals BEFORE she ever became queen," Reo stresses. "The remark was ascribed to several aunts of Louis XVI, according to French philosopher-writer Jean-Jacques Rousseau."
Yes, that pastry pooh-pooh has followed Marie Antoinette into the annals of history, marking her as a petty, out-of-touch, and uncaring monster. Her reputation has been sullied for so many centuries that it is difficult to erase all of her bad press. Sofia Coppola brought the young queen's life to the screen in 2006, in a beautifully photographed and costumed film treatment. She, too, strove to make Marie Antoinette (this time embodied by Kirsten Dunst) into a woman who was in over her head. (Ouch! Pardon that imagery.)
The Coppola movie presents Marie Antoinette as a media creation — an It girl of her time. She loves the partying life and the accouterments that accompany her ascension to the monarchy. It is akin to Kim Kardashian who has been elevated to the Queen of the Internet. If such power and majesty has been attributed to her — able to break the Internet with a single Instagram booty picture — how was poor Marie Antoinette expected to remain down-to-earth and unaffected? She couldn't.
Whether you stand on the sideline that believes she was an overprivileged, haughty harpy who got her just deserts (though with the cake crack, it feels like it should be "just desserts") or a misunderstood and scapegoated monarch who paid the ultimate price for a political take-over and coup, everyone can agree on one thing: Marie Antoinette was discussed and dissed, loved and hated, while she was alive. She knew she was a magnet for hushed whispers and loud commentary.
Part of the reason was her appearance. She was a lauded beauty of her time, and many members of the public were jealous of her good fortune: good looks, wealth, power, and a group of adoring children born to her.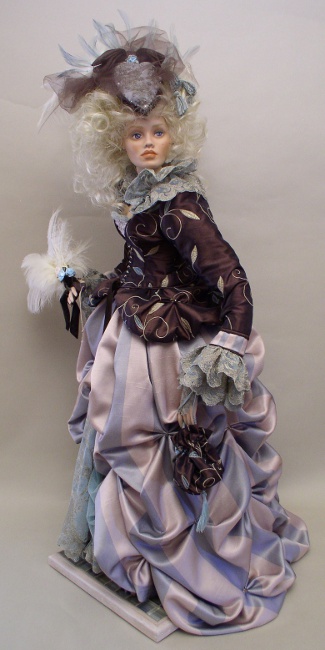 "She was well known for her beauty, wit, and extravagance. She was the darling of the French aristocrats and even the common people for a time," Reo agrees. "She was a natural pale flaxen blonde in her youth. Later, she donned the high-fashion white powdered wigs that were the rage of the French courts and elite society."
Reo's doll approximates the queen's fair complexion and wardrobe choices. Her outfit is an exquisite day gown that was designed especially for her. Her eyes are painted light blue, and she is made as a young version of herself, before her world was torn asunder.
"I see Marie Antoinette as a French paradox," Reo states. "Lovely and very brave, she is trying valiantly to disguise her many fears with a somewhat haughty countenance. At barely 15 years of age, she became the Queen of France." Her union to 16-year-old Louis was meant to heal the rift between Austria and France; their wedding was expected to eliminate the feud and to restore peace among the two nations.
What we learn from the story of Marie Antoinette is that the powers that be can conspire and negotiate, plan and plot, but when the people have finally decided that enough is enough, whether right or wrong, change will follow. Dare I say: heads will roll. (And dare I say to check out the book and novella I wrote about Marie Antoinette! Learn about it on my website!)