Mother's Day is fast approaching, and I know what I want. It's not a charm bracelet with my children's heads duplicated in gold (I have a lovely necklace that approximates that); it's not a mug; it's not a frame; it's not breakfast in bed and a bouquet of balloons. No, it's not a late-night jaunt down to the local tattoo parlor as I pay the ultimate homage to myself, with my husband immortalizing it all with his flip phone. No, what I want for Mother's Day is the new Mattel release: Ghoulia Yelps, a gal with an anemic complexion that only a mom could love.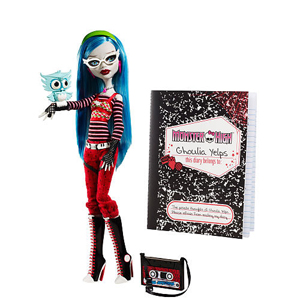 Pale-skinned, blue-haired, and garbed with exquisite retro cat's-eye glasses, Ghoulia is a zombie, and aren't we all a little bit "zombie" deep down? I know that I certainly am inarticulate and slow-moving in the mornings, and even after my third cup of coffee (served in the World's Best Mom mug), I still kind of plod and putter along rather than race and leap.
Over the past year I've watched all the press that the Monster High dolls have garnered and it's clear to me that their appeal has really hit home with women, aged 35 to 44. I've looked at feedback on different Internet buying sites, and the REAL real-life housewives of your major city, artists, teachers, nurses, and all other grown women have left high ratings about these high-school outcasts.
Why would Monster High become such a triumph for us older gals? Well, I think it's because Mother Hood is sometimes a very, very scary place to dwell. One moment you're living life for your own enjoyment, your own benefit, your own advancement (and your husband's, too, don't want to forget dear dad here)—and then bump . . . wow! Suddenly you're a mom, and your thoughts are never yours alone again. You have morphed into a different person: a transformation that might have made you better, more selfless, more caring, but you are never your old self again. Enter the popularity of the MH dolls: they are fashion dolls with a quirky, comedic twist. Recognizable yet unusual. Bizarre but welcoming. They have touched a spark with women who have seen themselves cast and re-cast in many roles throughout life—some expected and some right out of left field!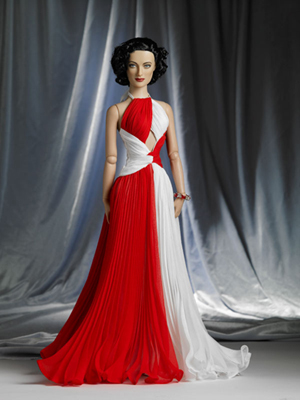 I imagine Mother's Day is a big day for the gifting of dolls to the collectors among us. I am sure the vignette sets that feature "adoring mothers and children" are popular as presents on this big day. My tastes are a bit more off-beat. I think if Ghoulia hadn't caught my eye (and she came a-calling via an Amazon.com suggestion in my in-box), I probably would want one of the Joan Crawford dolls from Robert Tonner. One of my favorite movies is "Mommie Dearest," and I got the DVD—so appropriately—for my Mother's Day gift last year! To me, it is so bad, it approaches pure genius, and Faye Dunaway does such an over-the-top job as Joan, that I am sometimes confused as to who was the real screen legend. Tonner's Joan Crawford dolls are monuments to her more gentle and genteel screen peronas. However, all it would take is a handful of doll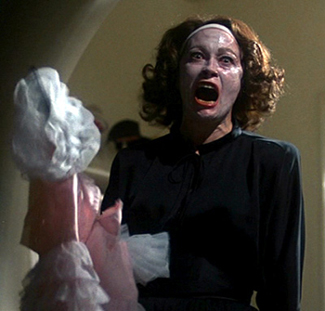 hangers (NOT wire, of course) to turn her into the campy creation. Slather on some eye and chin cream, and the Joan doll can pass as a doppelganger for that cult favorite's "heroine."
Recently, I subscribed to HBO specifically to watch the miniseries of "Mildred Pierce." What a total disappointment. Yes, I concur that it was very true to the book, and Kate Winslet gave a studied and egoless performance. But THAT was the problem with the whole show. It was so relentlessly dreary, so accurately melancholy and downtrodden—there was no star turn. Joan Crawford's 1945 vehicle was so much more passionate, emotional, and memorable. Long-suffering Joan and saintly Mildred are a motherhood combo that can't be beat.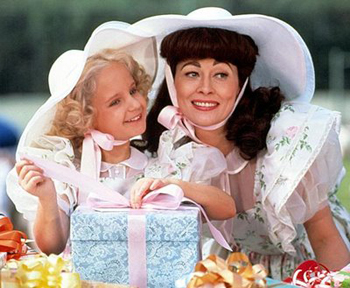 In one of my earlier blogs, I wondered if there should be a "doll day" here in America. Other countries have national holidays that honor the art of the doll; the USA votes absent on that. I'm now thinking it could be Mother's Day.
Perhaps this year, we could all do that. We still have a few days before our holiday, and maybe we can ask our kids, our godchildren, our grandchildren, and our hubbies to become a part of our hobby for that day. It doesn't have to be an ironic choice; it doesn't have to be a hip or avant-garde selection; it doesn't have to cost an arm and a leg; it just has to be a doll.
I look forward to hearing from you if you follow through on this request. Doll collecting needs a shot in the arm, and I would love to think we could all come together to help keep this passion healthy and thriving.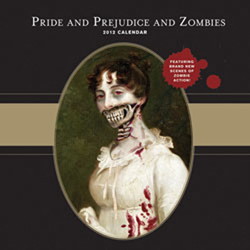 Yeah, it's ironic that I'm betting on a zombie to keep the doll world alive and well, but zombies are this year's hot new thing. Don't take my word for it: just google "zombie literature." From Jane Austen to Ben Franklin, they've all been zombie-fied, I rest my case.
Happy Mother's Day, everyone, everywhere!