It's an unavoidable fact of life: we all are going to die one day. Yes, that's a "downer" way to begin this week's blog, but it's the truth, and perhaps we all need to remind ourselves of that. On Thursday night, July 21, Elliot Handler, the co-founder of Mattel, passed away. He was 95 years old. His age shows that he had a long life; and the way that his family and friends have praised him in quotes to the press reveals that he had a happy life. That's what we all want in the end, isn't it? A long and happy life.
Back in the 1940s, after World War II, Elliot Handler, wife Ruth, and a business partner, Harold "Matt" Matson, created Mattel (a blending of "Matt" with the "El" from Elliot). The debut of the future corporate giant was not auspicious. Rather, the reputation and the success were both built the old-fashioned, all-American way: in a garage workshop, at night after other work, through trial and error.
At first, the trio set about manufacturing picture frames. Elliot, who always had a soft spot for toys, realized that the scraps left over from the frames could be utilized for making dollhouse furniture. An emphasis on toys soon came to him, and then to his spouse and cheerleader, Ruth. The Handlers bought out Matson's share of the company, and Mattel was off and running.
With any business, there were stumbles along the way. One story that caused Elliot and Ruth to chuckle later in life concerned an early big hit they showcased at Toy Fair. It was a miniature piano that played music, and retailers couldn't get enough. After pledging to fill 300,000 orders, the Handlers realized they had mispriced the toy. They fulfilled the orders, losing a dime on every one that they completed and shipped. That was a $30,000 valuable lesson.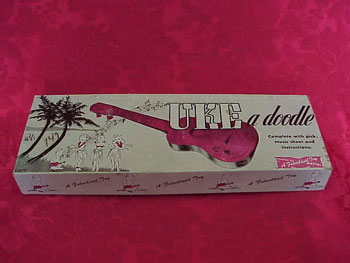 Before the arrival of Barbie, the doll that embodies Mattel for many collectors around the world, Elliot and Ruth were known for coming up with playthings that were fun for kids and were showcased in unexpected ways. A plastic ukulele that played real music, via a built-in music box, and a jack-in-the-box that popped up to cranking music were two of their big early best-sellers.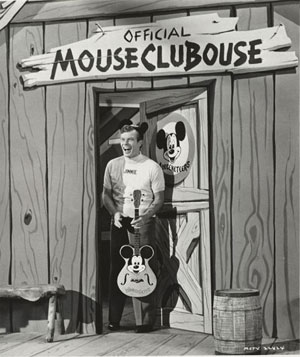 It wasn't just the toys that defined Elliot Handler's life story, though. When he learned of a show tailored for children that was planning to hit the airwaves, he volunteered to be the sole sponsor/presenter. Using his business's total assets at the time—$500,000—Mattel became the official advertiser for "The Mickey Mouse Club." As they say, the rest is history.
By marketing on-air commercials that spoke directly to children, the floodgates of consumerism were sprung open. Children devoured the show, were equally stimulated by the promise of toys at the advertisement breaks, and the toy boxes of America promptly began to overflow. With the increase in toy purchases—how could any self-respecting mom say no to junior—Mattel's revenues understandably soared. In three years, their annual sales went from $5 million to $14 million. It was pure gutsy genius.
The Mattel brand is almost like Xerox or Kleenex for many of us toy watchers. Yes, it's a trademarked name, but it has an almost generic appeal. Mattel means entertainment and hours and hours of playtime for kids; it's synonymous with a guaranteed eye-popping feast for the senses for adult collectors as well.
During the 1970s, the Handlers and Mattel parted ways, but during the more than 30 years that the couple presided over the Fortune 500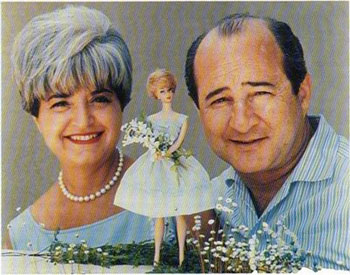 Company, the roll call of creations is a "What's What" in Toy History. Members of the Toy Industry Hall of Fame, the Handlers have bequeathed a legacy of love and laughter that trumps any of the bad blood that their corporate ousting might have entailed.
It's been said that Ruth was the "brains" behind the operation; the woman who had the business angle in her blood. (And it was Ruth who faced the accusations of company malfeasance after their departure from Mattel.) Elliot had the "heart" and the "vision."
A student of art and industrial design, he delighted in tinkering with toys, physically making and building many of them, painting them, choosing color schemes and names. Dubbed the "father" of Barbie, Chatty Cathy, Hot Wheels, Liddle Kiddles, for which he hired famed doll artist Martha Armstrong Hand to sculpt, Elliot was able to think like a child. He knew what would please them the most. After all, the kids were his number one customers.
The 3-inch-tall Liddle Kiddles were designed to reflect the children he saw scampering through his neighborhood. Despite their super mini size, the early Kiddles did indeed reflect kids who ran about and actively played across American backyards everywhere.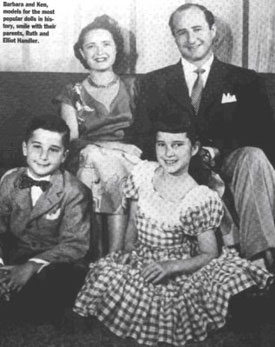 Interestingly, Elliot's own children, Barbara and Kenneth, for whom Barbie and Ken are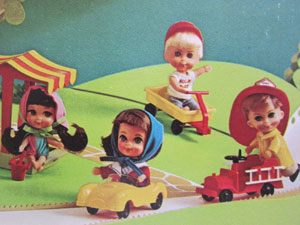 named, were not comfortable with having their identities meshed with the fashion model dolls. The fantastic plastic renderings did not resemble Barbara or Kenneth at all, but their connection to the dolls was well known to schoolyard bullies. They taunted the Handler siblings incessantly.
Living a long and happy life does not guarantee that sadness will stay away. The Handlers' son, Kenneth, died of a brain tumor in 1994. Devoted wife and business partner Ruth passed away in 2002.
With his family's support and love, Elliot lived on, and continued to create until his final days. Rather than turning to toys, he focused his energy and talents toward painting. His daughter Barbara, now a grown woman, said he was excelling at painting with photorealism. It makes sense that the man who had the foresight to bring reality into the playroom would take realistic painting to heart.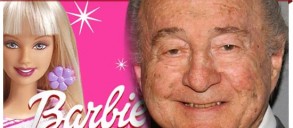 "We were very saddened to learn about the passing of Elliot Handler, the Mattel founder who created some of the world's most beloved toys," Mattel said in a statement. "He not only inspired and delighted the employees of Mattel but generations of children around the world. The 30,000 employees of Mattel are proud to continue his legacy and love of play for generations to come. We extend our deepest sympathies to his family."
The readers of DOLLS magazine do likewise.