DOLLS magazine is pleased to announce its sponsorship of the 2010 Colliii Awards. "The Colliii Awards is an international competition whose aim is to bring the doll world closer together and promote doll art from around the world," says James Carlsson, director of international relations for www.colliii.com."Some countries are newer to dollmaking than others, but this doesn't mean that their artists are less talented. Through the Colliii Awards, dollmakers and artists have the chance to promote themselves on a worldwide level."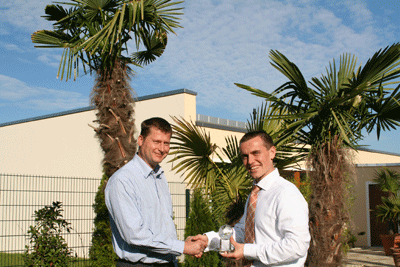 Slated to begin in early July, everyone who votes earns a chance at winning the prizes donated by sponsors. This year categories will be added to include more one-of-a-kind dolls, including fantasy dolls and lifelike scale-replicas of people, as well as ethnic  reborn baby dolls.
The Web site, www.colliii.com, is a multi-language online portal for dollmakers and collectors to find out more about the doll world in their own language. Currently, it is translated into English, French, German, Spanish, Italian and Russian.
Photo Caption
James Carlsson (far right), director of international relations for www.colliii.com, presenting Stephan Biemann of Schildkröt with the VIP Award, which is the company's lifetime achievement award.