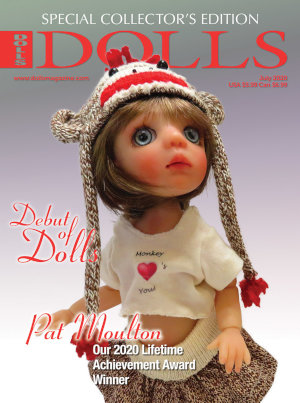 The digital magazine can be seen only by paid members who are logged in.
Have a website login already? Log in and start reading now.
Never created a website login before? Find your Customer Number (it's on your mailing label), click above, then click First Time Registration top-right.
Subscribe and you can be reading in 5 minutes.
Still have questions? Contact us here.
The July 2020 issue of DOLLS features 48 four-color pages. This issue is our special annual Debut of Dolls collector's edition! Inside, you'll find features on more than 25 top doll artists and designers, including Kim Arnold, Shawna Clymer, Susan Gibbs, Sarah Maldonado, Pat Moulton, Sylvia Natterer, Beverly Stoehr, and Kaye Wiggs.
TABLE OF CONTENTS
Features
10 Latidoll
Korean dollmaker continues to grow BJD line
11 Zwergnase
Continues Germany's tradition of quality dollmaking
12 Charlene Smith
Finds her place in the doll world
14 A Wonderland Aesthetic
4 generations create dolls, miniatures
By Sharon Verbeten
18 Susan Gibbs
Artist celebrates her first decade of reborn artistry in 2020
19 April Norton
Porcelain a priority for this accomplished artist
20 Mother of Invention
4 Decades of doll designs, innovations earn Pat Moulton our Lifetime Achievement Award
By Stephanie Finnegan
25 Maria Lynn Grover
Strikes a balance between painting, sculpting
26 Kim Arnold
Dollmaking disrupted, BJD artist spends time helping community
27 Brenda Mize
Makes vintage-style dolls
28 Beverly Stoehr
Creates dolls in many mediums
28 Debby Brooks
Tiny toddlers, cuddly babies, and more
29 JC Toys
A family tradition of quality baby dolls
30 Rose Lacefield
Keeps adding to her flock
30 Rachel Sherrod
Captures history in cloth
31 Best Friends' Renee Goldberg
Reflects on 4 decades in the doll world
32 Vanessa 'Vee' Lee
Silicone artist aims to bring joy to collectors
33 Jennie Sykes
Has a passion for porcelain
34 Virginia Obeius
BJD designer finds unexpected inspiration during coronavirus crisis
By Wil Peterson
36 Kaye Wiggs
3 decades of dollmaking
36 Dolly Dames
Offers creepy cuties
37 Edith Schmidt
Turns postponed plans into opportunity
By Edith Schmidt
38 Judy Pollard
Embraces colorful BJDs
38 Marguerite Noschese
Creates OOAK characters
39 Shawna Clymer
Keeps busy with tiny baby sculpts
40 Sylvia Natterer
Designs for collectors, children
46 Sarah Maldonado
'Time is the only constraint' for porcelain artist
Departments
8 Editor's Notebook
41 Curious Collector
42 Antique Q&A
43 Portraits
44 Paper Doll
46 Classifieds
46 Advertiser Index