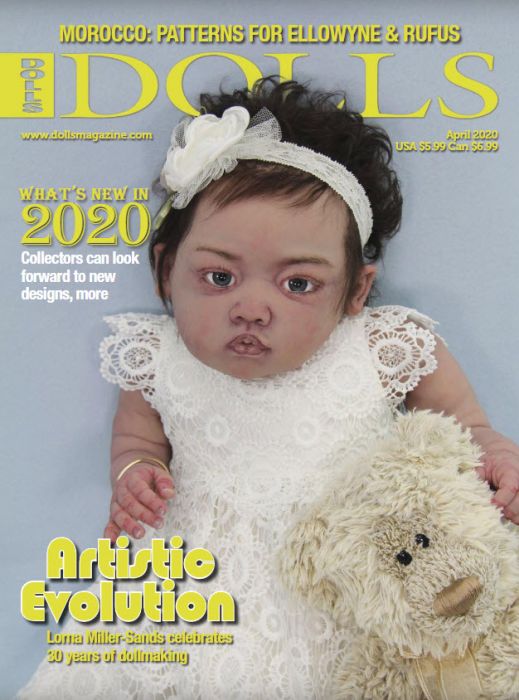 The digital magazine can be seen only by paid members who are logged in.
Have a website login already? Log in and start reading now.
Never created a website login before? Find your Customer Number (it's on your mailing label), click above, then click First Time Registration top-right.
Subscribe and you can be reading in 5 minutes.
Still have questions? Contact us here.
The April 2020 issue of DOLLS features 48 four-color pages. This issue includes articles about doll artists Lorna Miller-Sands, Elizabeth Cooper dolls, Dolly Dames, new designs from Madame Alexander, Debby Brooks, Meadow Dolls, Beverly Stoehr, and more! Plus, a special feature on doll collector Trish Hurley with two of her original patterns for Ellowyne Wilde and Rufus.
TABLE OF CONTENTS
Features
8 Artistic Evolution: Lorna Miller-Sands celebrates 30 years of dollmaking
By M. Alisa Benaresh
12 Somewhere In Time: Elizabeth Cooper's dolls reside in a classic, nostalgic childhood
By Stephanie Finnegan
What's New in 2020
Collectors can look forward to new doll designs, more in the coming year
16 Madame Alexander: 'Love is in the details'
19 Debby Brooks adds new dimensions to reborn art
20 From tall to small, Meadow Dolls offers variety in BJDs
22 Beverly Stoehr designs new toddlers in many mediums
24 Brenda Mize expands on new inspirations in 2020
25 Angels to Zombies: Dolly Dames creations reflect artist's faith, love of scary movies
By Stephanie Finnegan
26 Playing With Dolls: Creative collector stages elaborate adventures for her dolls
By Joyce Greenholdt
28 Morocco Costumes: Patterns for a princess & sheik for Ellowyne & Rufus dolls
By Trish Hurley
Trish Hurley Subscriber Bonus Photo Gallery
Departments
6 Editor's Letter
38 Antique Q&A
40 Curious Collector
41 Portraits
41 Classifieds
42 Doll Scene
44 Paper Doll
46 Event Calendar
46 Advertiser Index