De Poppenstee celebrates both crystal (15 year) and silver (25 year) anniversaries this year. Bets and Jos van Boxel started De Poppenstee in 1986, when they rebuilt a former farmhouse with their own hands into a gallery and studio. The name is a combination of "poppen," the Dutch word for dolls, and "stee," the type of farmhouse in their part of the Netherlands. Their daughter Amy reinforced the team 10 years later. Since then, they've worked together to create porcelain dolls of children, as well as handling all the other tasks associated with running a family business. "Working together offers many benefits," Amy van Boxel said. "Each member of the family has his or her own specialty, and few words are needed to understand one another."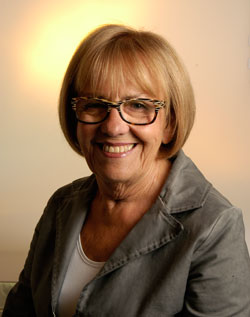 Bets van Boxel began making dolls as a hobby and developed her own techniques. Calling her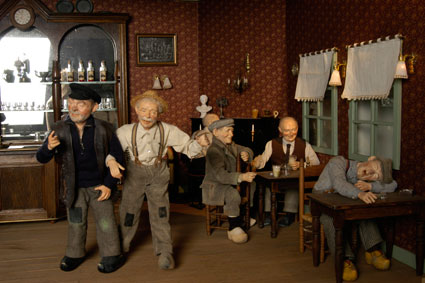 creations "character dolls," she wrote several books on the subject and taught courses on making dolls from self-hardening modeling compound, iron wire, tissue paper, and tape. "Making dolls was very popular in those days," said Amy van Boxel. "Hundreds of ladies and gentlemen followed her lead."
Once she got acquainted with porcelain, and inspired by what the van Boxels had seen in their travels, Bets van Boxel switched to making a line of limited-edition porcelain ethnic dolls called "Children of the World." She also wrote a book about this subject and made an instructional film. Over the years, van Boxel has immortalized some of the children from nearly every country in the world.
By 1996, there was increasing interest in the "Children of the World" dolls from abroad, and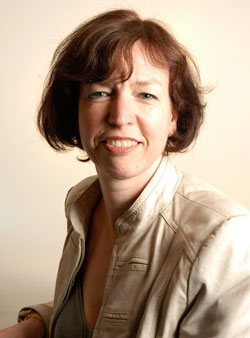 Amy van Boxel joined the business to help out. The dolls were exhibited in the United States, France, Monaco, Germany, and Belgium, and individual dolls ended up with collectors all over the world.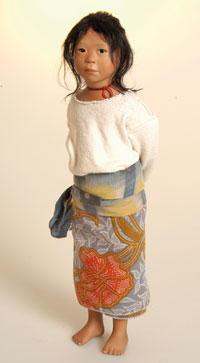 "At first I gained experience with the different styles that Bets teaches in her classes," Amy van Boxel said. Later she developed her own collection of child dolls, mostly made in different sizes from the "Children of the World" series, which are created in 1:2 scale and range from 40 to 90 centimeters tall (approximately 16 to 36 inches), depending on the age of the child. Amy van Boxel's dolls are 1:4 scale, with heights from 20 to 45 cm (approximately 8 to 18 inches).
Twice a year, Bets and Amy van Boxel present their new collections. They are still inspired by the trips that Jos and Bets van Boxel make every year. Next to all the pictures of landscapes and ancient buildings in Bets van Boxel's photo album, are pages filled with beautiful children's faces. At local markets they search for authentic fabrics, ornaments, and accessories. In this way, they build a collection that makes it possible to create dolls from all over the world. This year's anniversary collection consists of dolls inspired by children from Peru, Vietnam, Ladakh, and Benin.
The idea for a doll sometimes starts with a beautifully woven fabric, an expressive face, or just a pose. Bets and Amy van Boxel go through their collection to complete the picture in their head. Using their photos as for reference, they model the head, arms, legs, and body in Plasticine, a non-hardening clay. It is important to ensure that all the pieces are sized correctly, taking into account that the porcelain will shrink approximately 20 percent. The sculpted Plasticine parts are used to make a plaster mold.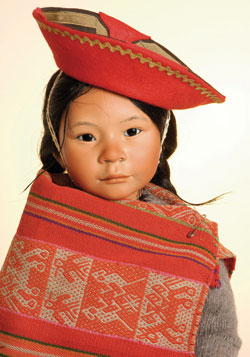 To make the dolls, porcelain slip is poured into each mold, forming a thin layer of porcelain. The excess slip is poured out and a hollow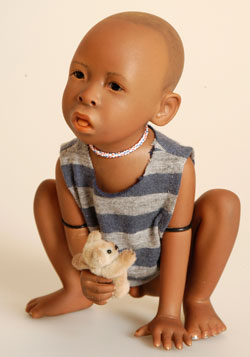 form remains to be taken out of the mold once it's dry. After drying, each part must be cleaned. Eyes and nostrils are cut out, the skin is smoothed, and features are refined. The porcelain parts are fired in a kiln up to 1180 degrees Celsius (over 2000 degrees Fahrenheit). One day and night later, the porcelain has reached its final strength, size, and a fair skin color. Depending on the desired skin color, porcelain paint is applied in several layers and fired every time at 780 C (1436 F). Eyebrows, lashes, lips, and blush are painted. Finally nails and, if necessary, dirt are applied.
The next stage is assembling the doll from the individual parts. The porcelain parts are attached directly or through fabric body parts. Fabric parts are stuffed with fiberfill and strengthened with a wire frame, allowing the van Boxels to pose the body. Most children are completely or partly dressed in traditional clothing. If possible, all the clothing is made from authentic worn clothing. After studying the pattern and use of colours, the clothing will be made in the right size for the doll.
Crystal eyes are inserted and fixed in the right position inside the head using plaster. Real human hair or mohair is used to make a wig or
affixed directly to the head. Finally, the real hair upper eyelashes are glued on and final touches are applied. Clothing and shoes have to look worn, little accessories like toys, purses, cutlery, etc. are placed in the doll's hands. Every doll has its own high-quality doll stand, also produced on the farm.
A doll is approved when it tells a story to the viewer, when the facial expression, pose, and clothing are all right and the child becomes "real." Bets and Amy van Boxel are looking in particular for the beauty within a person. "Every creation reflects the love that is put in while making it," Amy van Boxel said. "The biggest complement consists of a collector who appreciates the work of art and wants to give it a beautiful place in their home. Bets and I want to thank all the people who've made it possible to create our works of art for the past 25 years. We hope to continue this work for many more years."
For more information, visit www.poppenstee.nl.