Photo courtesy DLI/NYU Education
With March designated as Women's History Month, a very interesting and long-standing question arises: Is it possible to be both a doll lover and a women's rights crusader? For many people, the two categories are totally oppositional. Many strident feminists envision dolls as anchors created to weigh down young female children, miring them in the world of "patriarchal" expectations! Now, all of us on this DOLLS page have a shared history in dolls, and many of us are women. Do you agree with this dismissal of dolls as an out-of-date, out-of-step category? Do you agree with Gloria Steinem's condemnation of dolls: "We've begun to raise daughters more like sons … We are casting away the trappings of gender expectations, beginning with their toys. You can look at a Barbie doll and say, 'Isn't that interesting? If she were to stand up, she would fall over because her feet are tiny and her breasts are huge. If she was a real person, she'd have to be 11 feet tall.' We can use that construct to raise awareness and consciousness among our children."
The big slap against dolls is that they are either made to make young girls desire the role of becoming a mommy or they perpetuate the notion of pretty and shapely as the only attributes that matter. What's funny about that premise is that the "mother" of the American feminist movement, Gloria Steinem, was quite the looker in her day. In fact, as a writer for SHOW magazine, Steinem went undercover as a Playboy Bunny at Hugh Hefner's high-end nightclubs. (Her essay appeared as a two-part article and nowadays can be found online and read as a PDF.) Her 1963 stint as a waitress and a beacon for men's lust lasted for 11 days. During her assignment, she came to recognize her fellow Bunnies as real women with hopes, dreams, aspirations, and problems. She credits that encounter with young hapless women, who were trading on their good looks, as one of her pivotal consciousness-raising moments. Her radicalization began in earnest in the early 1960s, and in 1985 her experiences were made into a TV movie starring Kirstie Alley. It was one of those weird films that pretended to be taking a higher moral ground (exposing the underbelly of so-called glamorous work) while still showing off comely, buxom actresses in skintight rabbit suits!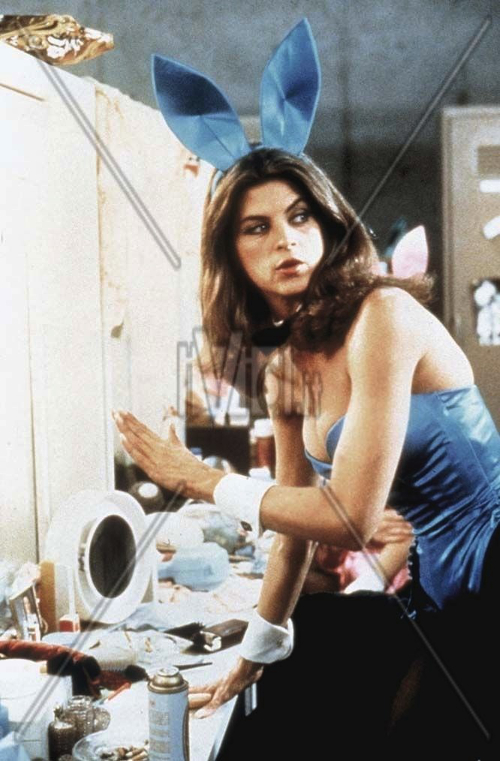 (Photo courtesy of ABC Circle Films)
This is really fascinating because Gloria Steinem, who always wore her hair long and frosted or highlighted, was widely celebrated for her beauty. She was quickly made the poster child of the women's movement because she was easy on the eyes. No one would come out and say she was good-looking, therefore pleasant to watch, which equals being given screen time and message time. Her pretty face made her a palatable spokesperson rather than the less conventionally attractive feminists, like Betty Friedan, Bella Abzug, or Andrea Dworkin. So, it's odd that in many ways Gloria Steinem was shuttled to meet the press and encouraged to address the rank and file because she was more Barbie than Bella. Her high cheekbones and photogenic smile raised her profile and elevated her notoriety.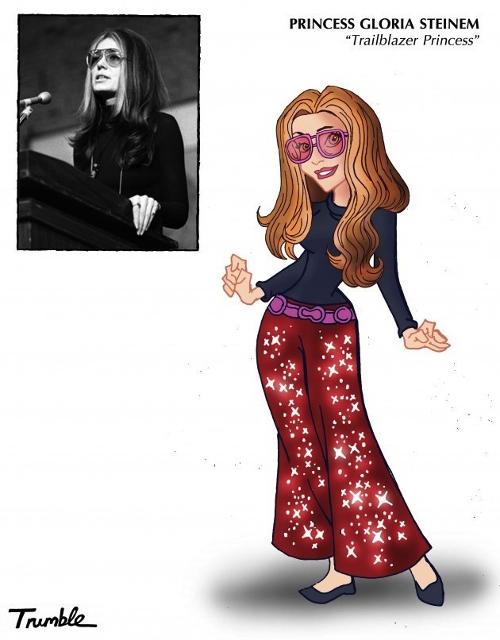 (Photo courtesy of David Trumble)
In 1963, when Gloria was donning a swimsuit and her cottontail, Californian wife Betty Miller was sliding into the cockpit of a twin-engine Piper. She was on her way to deliver the plane to a customer located in Brisbane, Australia. Flying from Oakland, across the Pacific to her waiting customer, she became the first woman to solo across the Pacific Ocean. She flew for 51 hours, 38 minutes, to reach her final destination. While on the way to her last stop, she also set another record, becoming the first woman to fly solo to Honolulu, Hawaii,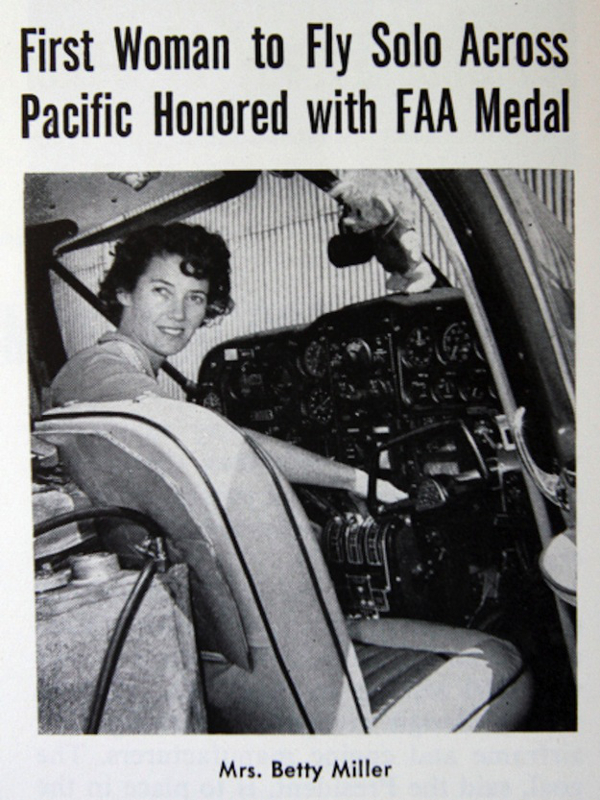 (Photo courtesy of the Salt Lake Tribune)
What's so eye-opening was that Miller was accompanied on the flight by her "copilot," a doll named Dammit. Like many Americans in 1963, Betty Miller had succumbed to the quirky and odd charms of the Troll Doll movement. These dolls were potbellied and squashed nosed. Their eyes were enormous and their hair was out of control. They were often nude, but "sexy" could never be applied to a Troll. When they were dressed in human attire, they looked comical and bizarre. Like Mattel's Barbie, the Trolls had a huge array of potential careers, and their wardrobe reflected whether they were a wizard or a chef, an astronaut or a doctor.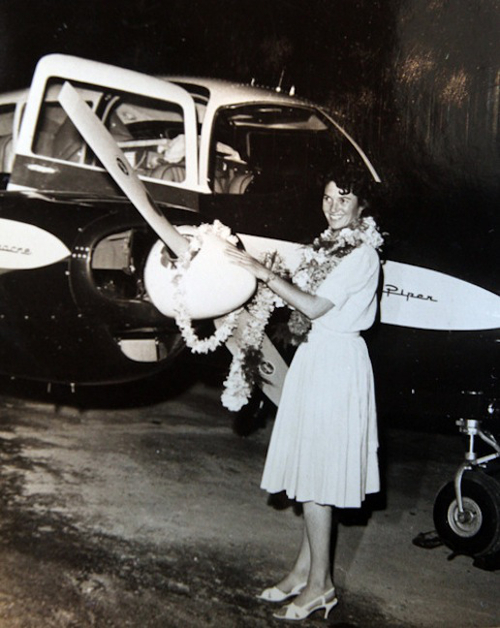 (Photo courtesy of New York Daily News)
When Miller stepped out of the airplane, she was immaculately turned out in a crisp, freshly starched dress and high heels! Talk about putting one's best foot forward! Wearing a floral lei, and being enthusiastically greeted by well wishers, she looked like a fresh-faced mom who had set a new record for the elementary school PTA bake sale. She wasn't wearing a helmet and goggles; there was no leather bomber jacket or silk scarf billowing in the wind. Betty Miller was the embodiment of modesty and humble acceptance. The AP photographer who snapped that picture sent it via a new wire service, and her image was transmitted everywhere.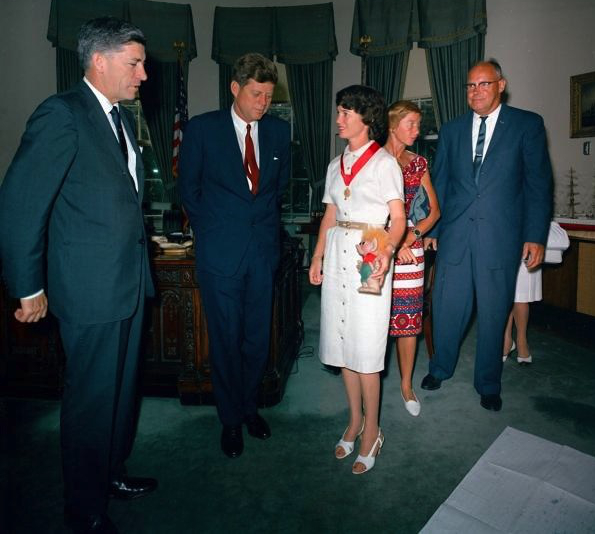 (Photo courtesy of Abbie Rowe and JFK Library)
Miller received aviation awards and medals for heroism because of her exceptional fortitude and courage. She always maintained that she didn't make the flight for any kind of recognition or publicity. She simply had to get from point A to point Z, and flying was the way to achieve it. When she was invited to the White House to meet with then-president John F. Kennedy, she attended the ceremony with her Troll Doll in hand. She explained to JFK and his vice president, Lyndon Johnson, that her doll Dammit was an integral part of her success. It kept her feel lucky and confident throughout.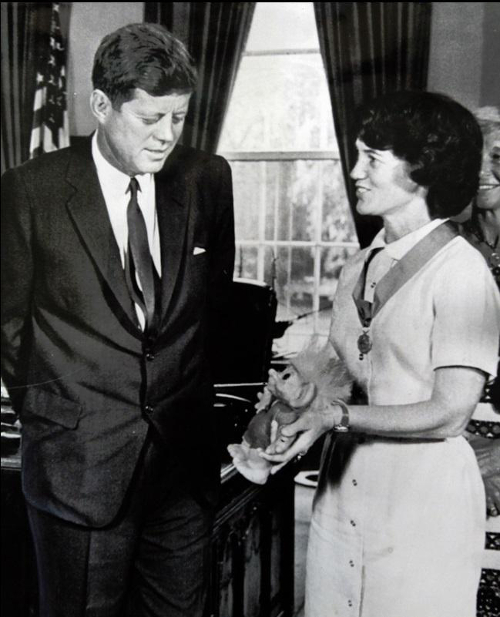 (Photo courtesy of Abbie Rowe and JFK Library)
With her doll on her dashboard, Miller set out to defy the odds when she piloted the Piper to safety. Communication was practically nonexistent with any ground command or air traffic controllers. She flew in silence, and only chatted with her make-believe doll companion. She kept herself busy and alert, and credited the doll with helping her not feel so alone and isolated.
Betty wasn't a "Jane come lately" to the world of flying. She was the wife of fellow aviator Chuck Miller, and the two often took to the "wild blue yonder" together. The pair worked as flight trainers during the 1950s, and together were instrumental in refining aviation educational methods. They taught more than 4,000 new pilots. One of her students was the actor Jimmy Stewart.
Remarkably, to this very day, it was Betty Miller's physical training and fitness that set the standards for NASA's female astronaut recruitment program. Her participation in early training trials is the measurement still used for female candidates. Miller and her Troll Doll continued to work quietly in the aviation industry and competed in helicopter championships as late as the 1970s. Her accomplishments on and off the Tarmac are known mostly to aviation buffs and her family. Not gravitating to the limelight, and not casting herself as anything but a woman doing a job in 1963, Miller's achievements have pretty much faded into obscurity.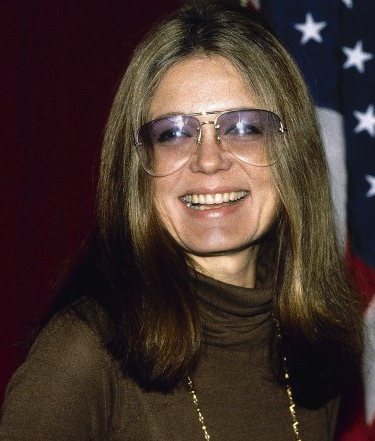 (Photo courtesy of Time-Life Communications, PEOPLE magazine)
Gloria Steinem, who sported large-framed eyeglasses called "aviator glasses," went on to launch MS. magazine and became synonymous with female trail blazing. Steinem is in history books published and read around the world.