For many people (myself included), "Little Women" is an ideal Christmas movie. Yes, I know the film spans many years and months in the lives of the March sisters. However, its good-hearted atmosphere and celebration of family bonds just drips holiday cheer to me. So, it's quite sensible that Madame Alexander has a lovely quartet of Little Women dolls for 2019. Best yet, these perfect Christmas presents key into a cinematic milestone.
This year, 2019, marks the 70th anniversary of MGM's big-budget, big-Technicolor production of the novel. This happens to be my favorite version of the Louisa May Alcott opus. It stars a cast of talented actresses and actors, each embodying their fictional counterparts remarkably well.
Madame Alexander dolls video: Click here
June Allyson tackled the challenging role of Jo, the opinionated and somewhat prickly narrator. An already established leading lady at MGM, Allyson was 32 years old when she stepped into the verbose teenager's shoes. Her portrayal of the feisty tomboy is filled with vulnerable moments. Allyson makes you identify with her conflicted emotions as she discovers her talents, and realizes what an author's life entails. Known sarcastically as the "town crier" because of her ability to weep on cue, Allyson embraces Jo's turmoil. Her scenes with a very young Peter Lawford as neighbor Laurie are actually heartbreaking. They turn the viewers into town criers, too.
The Alexander Little Women dolls capture the personalities of the March sisters with their different-colored gowns and wigs. Jo is a redhead with long hair that sweeps beneath her shoulders. For us movie and book fans, we know that Jo's tresses are labeled her "only crowning glory." Yet, to raise some much-needed cash for the family, Jo goes to the barber and sells her beautiful curls. Her selflessness allows her mother to travel to their father's hospital bedside. It would be nice if the Little Women dolls came with a wig change for Jo, or a swappable head. That moment when Jo bares her hacked-off hair is iconic.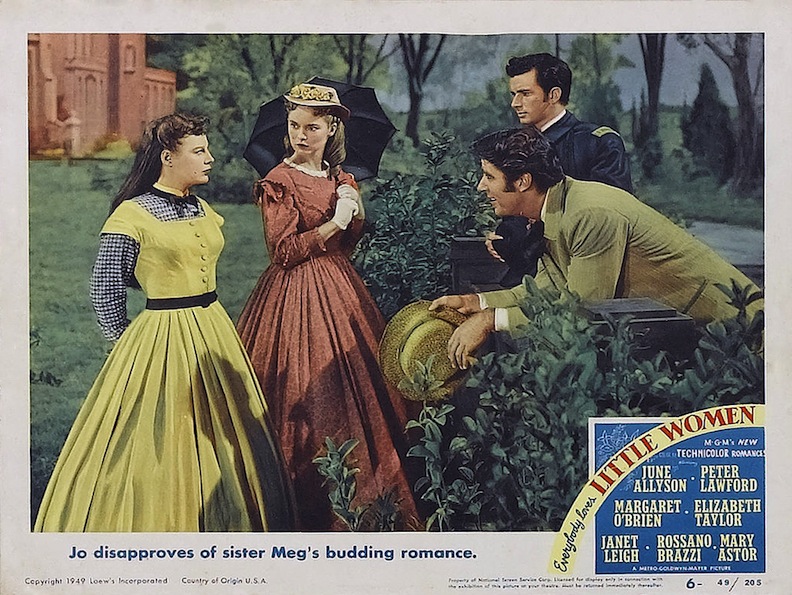 Modest and kind, Meg is the sister who seems to be born older than her years. If Jo identifies with being a boy — stomping around and being loud — Meg is a natural-born mom. In the 1949 flick, Janet Leigh (prior to her shocking "Psycho" shower) is the domestic good girl. Leigh is as pretty as a picture in this film, and she plays her courtship scenes wonderfully. The next-door tutor, a handsome young man, falls head over heels in love with Meg. She reciprocates his feelings, and her romance teaches Jo a valuable life lesson. Even the best sister can decide to leave home and begin a life of her own. Jo views this as a defection initially, but comes to realize that it is a part of growing up. (Jo is very much like Peter Pan. She doesn't want anything or anyone to change.)
Madame Alexander dolls video: Click here
The Little Women doll nods at Meg's more adult behavior and comportment. While the Jo, Beth, and Amy dolls have long locks, Meg's hair is pulled back in a bun of sorts. Married women didn't let their hair cascade down their backs. It was normally kept in a braid or pulled into a controlled ponytail or placed beneath a snood. Unmarried girls could showcase their flowing hairstyles because that was a way to catch a single man's eye. Married women were meant to save that seductive ploy for their husband's gaze alone.
The 1949 "Little Women" strays from the novel and other screen adaptations with its casting of Beth and Amy. Typically, Amy is the youngest March sister. She is always portrayed as flirtatious, headstrong, selfish, and self-interested. While the other sisters voluntarily perform acts of charity, Amy has to be pushed and shoved. True, she always ends up doing what is right, but that's one of her vices. She hems and haws, procrastinates and obfuscates. In 1949, 17-year-old Elizabeth Taylor has this plum role. Beth, who is the older, sickly sister, is made the youngest in this adaptation. Margaret O'Brien, who was known as the second-best crier in Hollywood (behind June Allyson), played Beth. O'Brien was only 12 years old, and the filmmakers decided it would be even more devastating to have such a doomed, childlike Beth. (Spoiler: "Little Women" is filled with many Kleenex-worthy moments, including happy marriages and births, but also breakups and deaths. You've been warned.)
The Alexander Little Women dolls for 2019 focus on the sisterly foursome. Amy is resplendent in pink, with thick golden hair surrounding her face. Beth has long, rich, dark tresses. She is garbed in purple, which is a silent homage to her fate. Purple is the color of mourning, and Beth's weakened immune system is too fragile for the world. With her open heart, pure motives, and serene soul, Beth is akin to an angel who dwells amid the Marches. She is not long for the world.
For us doll and old-movie fanciers, it's a shame Marmee, the matriarch, is not part of the 2019 release. In the 1949 movie, Mary Astor plays the levelheaded and charitable mother. Astor is very familiar to all of us doll lovers and "Doll Chronicles" readers. Robert Tonner made a beautiful version of the actress as one of his last Tonner dolls. I was fortunate enough to see it debut at Toy Fair in 2017. Astor was a versatile performer who was able to portray saintly moms ("Little Women" and "Meet Me in St. Louis"), as well as "difficult" women. In other words, she could tackle both the "good girl" and "bad girl" roles. Her femme-fatale turn in "The Maltese Falcon" is the stuff that film noir is built on.
Astor's connection to doll collecting also extends to her great-grandson, doll artist Andrew Yang. It would have been nice to have a Little Women doll based on her altruistic and generous character. However, Marmee is so self-sacrificing and self-effacing that if any character had to be snubbed, she would volunteer.
The Little Women dolls for 2019 are also well-timed because they are debuting the same year as Greta Gerwig's big-screen tribute from Sony Pictures. Gerwig, who made a splash with "Lady Bird," returns as this version's director and screenwriter. The film boasts a top-notch ensemble: Saoirse Ronan (Jo), Emma Watson (Meg), Florence Pugh (Amy), and Eliza Scanlen (Beth).
Laura Dern has the role of Marmee, Timothée Chalamet is Laurie, and Meryl Streep is on hand as ornery Aunt March. The pedigree of this new production is impeccable. Its release date of December 25, 2019 — Christmas Day — proves that I'm not alone with my association. To me, my daughter, and, hopefully, her daughter one day in the future, "Little Women" is a holiday treasure. I can't wait to watch this new cinematic version unfold. Doll collectors everywhere can unwrap the Madame Alexander Little Women dolls right along with it!