Zombies, witches and ghouls, oh my!  For those who love dolls and also enjoy celebrating Halloween "whole-hag," the 2010 Tonner Halloween Convention, held at the Sheraton hotel in Burlington, Va., from Oct. 29-31, 2010, was the place to be for spook-tacular fun. Where else but at a Tonner Halloween event can you dress up in wacky costumes, scoop up fabulous dolls by the armload and watch male trick-or-treaters dressed as a Mei Li doll and Mom from Psycho compete for a costume prize?
More than 250 collectors attended the event, some traveling from as far as France and Germany to join the freaky festivities. The three-day schedule was jam-packed: four full programs, each with its own dress-up theme and event doll offerings; four workshops/seminars; two terrifyingly tempting salesrooms; and a multiple-category competition.
Many longtime Tonner fans were on hand, including Deryl Colson from Georgia, a veteran of eight Tonner events. "I give this convention two thumbs up!" he says. "I was wowed by the incredible centerpiece dolls and the outstanding costumes by the attendees. And I especially like how Robert always tries to meet each person and make him or her feel welcome."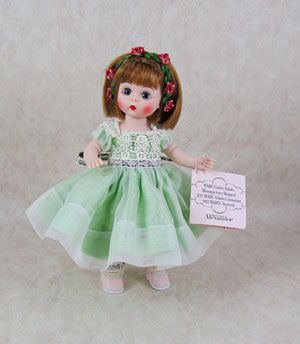 Convention first-timer Sophia Paliotti, 9-year-old daughter of mom Laurie-Ann Paliotti from Rhode Island (attending her second Tonner event), dressed as Harry Potter heroine Hermione Granger for the opening-night Trick or Treat program. (Laurie-Ann was costumed Professor McGonagall.) Wand at the ready, Sophia couldn't decide what excited her more: the convention dolls or the eagerly awaited release of the seventh Harry Potter film!
Tonner Design Director Joe Petrollese was up to the challenge of developing concepts for the event's 14 centerpiece and souvenir dolls. The trick to creating these treats, he told DOLLS, was to interpret Halloween themes in a way that maintained the "Tonner fashion slant." Petrollese explained, "We couldn't be too literal. A representation of 'Death,' for example, could be a skeleton in a hooded robe, but we had to do it for our collectors."
The result? Inspired, in part, by tarot card art, the Tonner "Death" centerpiece doll is a hauntingly beautiful, alabaster-toned version of the Wicked Witch of the West sculpt, garbed Goth-style in flowing black chiffon. She is intense but not scary. (In the tarot deck, Death can symbolize a powerful transition.)
Tonner and Petrollese kept also kept practical matters in mind when creating the event dolls: For this reason, the "Big Bad" and "Who's
For Dinner" his-and-her werewolf centerpiece dolls had removable tails and ears. And for collectability, edition sizes were kept small, with many dolls limited to only 100 pieces. "We kept the editions close to the bone!" Petrollese joked.
This was Tonner Doll's third Halloween convention to date, and the third time was the charm.  Tonner noted, "This year, it was wonderful to see the complete involvement of the collectors with the events and their costumes." Many attendees spent months planning and creating their Halloween attire and competition entries. The Macchia family (mom Stacey, dad Michael, and daughter Brighid) from Pennsylvania dressed in to-die-for costumes (some were handmade by Stacey) for each program, earning the grand prize for best costume—a free registration to the upcoming 2011 Tonner Convention.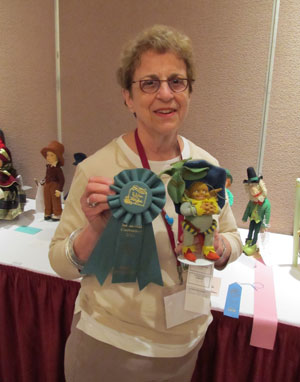 More than 50 eye-popping entries were submitted to the competition. AnnMarie Biegner of Rhode Island snared the People's Choice and Judge's Choice prizes for her sinister black widow: an eight-legged "Stella" trapping hapless "Matt O'Neill" in her web. Maryland-based designer, Miriam Shepard O'Mahoney, earned three judges' ribbons for her creations, as well as the Robert's Choice award for best entry for "Time Traveler," her  steampunk-style witch. "There were so many good entries," Robert said.  "The doll I picked was well executed and beautifully thought out." The final convention highlight—for Tonner and the attendees—was the foot-stomping "Thriller" dance number performed at the closing program by Tonner and his staff. The Tonner zombie team rehearsed for seven weeks to prepare for the performance, which was wonderfully choreographed and good fun to boot.