Mango Park of Seoul, Korea, is a designer for Jun Planning, the maker of Pullip dolls. The company also produces lines such as Taeyang, Dal, Ai Doll and J-Doll. DOLLS' plucky Pullip cover girl is "Another Queen" from Park's Another Alice series, inspired by Alice in Wonderland. The series combines Park's modern interpretations while incorporating some elements from the classic tale. Below, Park expands on some of her inspirations for Pullip dolls and the Another Alice series.
DOLLS: What did you do prior to designing dolls for Jun Planning?
I majored in and studied craftwork (industrial arts), metal, visual design, as well as illustration in Korea, and I studied interior/ display-design in France.
DOLLS: How did you generate the original Pullip doll concept?
When the online-community was popularized in Korea, a pretty avatar that expresses its own character also became very popular in Korea. I wanted to deliver a possibility of (that individual's sense through) a figure with a big face and slight body, while keeping characteristics from (the) "small image" made on a computer by few pixels.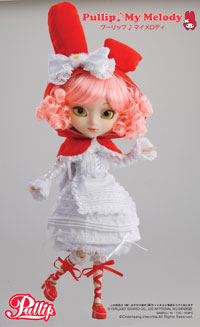 DOLLS: How do you generate new and innovative designs? What is your inspiration? What is your designing process?
I received "stimulation" from foreign experience, foreign artworks and new culture while taking trips to the various countries in the world. … Through observing various things, analyzing them and expressing (my interpretations) in various media, I am able to generate ideas inexhaustibility. Of course (during the design process) I must not overlook … how each end user receives my dolls.
DOLLS: What's the inspiration and concept behind the Another Alice series?
The Another Alice was developed as the result from my world-view that expands (upon) the existing Alice world.
The Alice series, which became popular to (many) different people in the world, is now a big spiritual source to me—the series gave me abundant inspiration.I like to deliver work that overcomes time and consciousness with characters slightly different from the existing Alice characters but (evoke) nostalgia with (the use of) original … colors.
The Another Alice series incorporates Renaissance-like clothes with an ethnic sensibility, gold-colored embellishments and chocolate-colored skin. We now have the Another Alice with lots of fashion sense!With adding the features each character has, not only "Another Alice" but "Another Clock Rabbit," "Another Queen,"  "Another King," "Another Rabbit," (five unique characters) were generated.