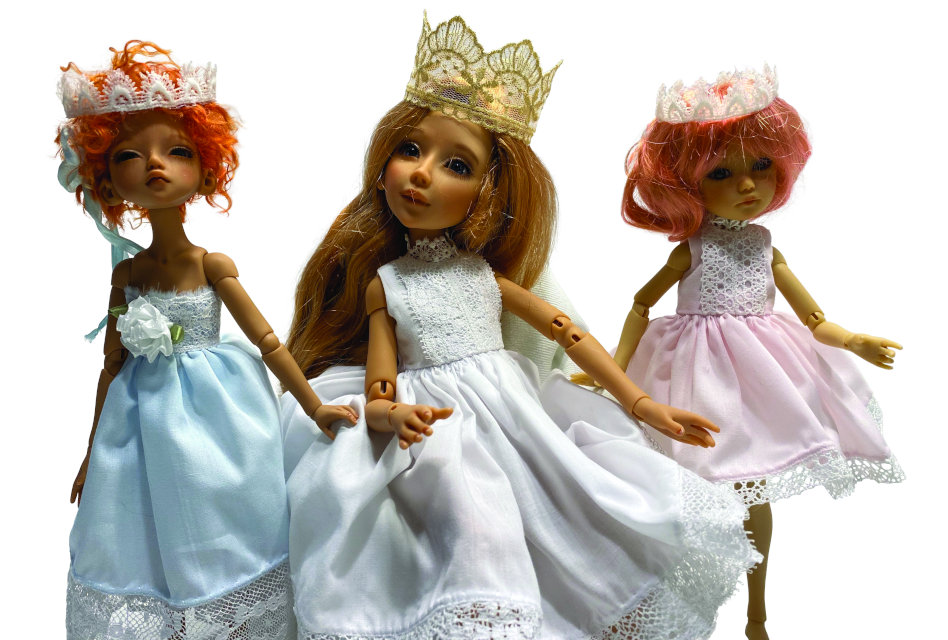 American fashion designer Rachel Zoe once said, "Style is a way to say who you are without having to speak." This is particularly true in the case of Arizona doll costumer Edith Schmidt. Schmidt, who designs under the name Edith's Editions, creates beautiful fashions for BJDs. Her doll models can't tell you what they want or what they aspire to be. Instead, their completed wardrobes do the talking for them.
A talented seamstress, Schmidt has plied her craft for friends and family members. She sewed clothing for her relatives and children. "It is much easier to sew for dolls, though. They don't complain at all about fit and style," Schmidt said.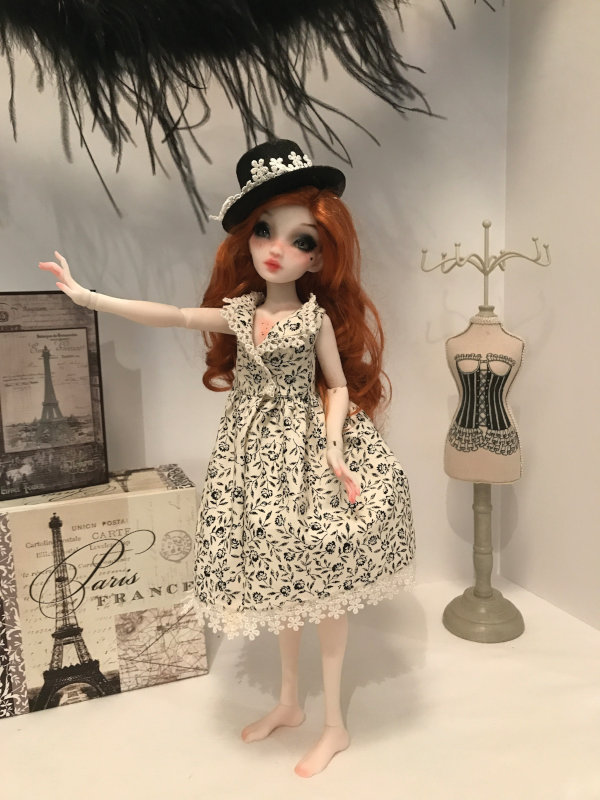 She also made and sold cloth dolls, but shut down that business in 2009, when her mother became too ill to accompany her to doll shows. By that time, however, Schmidt had become familiar with BJDs and was impressed by their versatility.
"I was fascinated with the many ways they could be customized with amazing results. Since I had been sewing for many years, including specialized training in creating fashions in heirloom styles, it seemed a natural move to make clothing for various BJDs," she said. "Many techniques in heirloom sewing can easily be used when sewing clothing for dolls. My goal was to create an affordable outfit with quality fabrics, laces, and trims."
When Schmidt sits down to create her clothing, she focuses on finding the right muse. The perfect BJD inspires her to dream up a lovely and lyrical ensemble. "My usual practice is to identify certain artist's dolls and purchase one to use as a model. However, I also love many of them so much that I purchase more than one, in different skin tones. When I am picking out these special dolls, I try to choose only the dolls I have a great desire to keep," Schmidt said. "I try to design clothing, either fancy or simple, that will complement the doll for which I am sewing. The many talented BJD artists create such outstanding dolls that they are a pleasure to dress, from the SD sizes down to the tinies. Sometimes it can be challenging, but when finished, it is worth the work."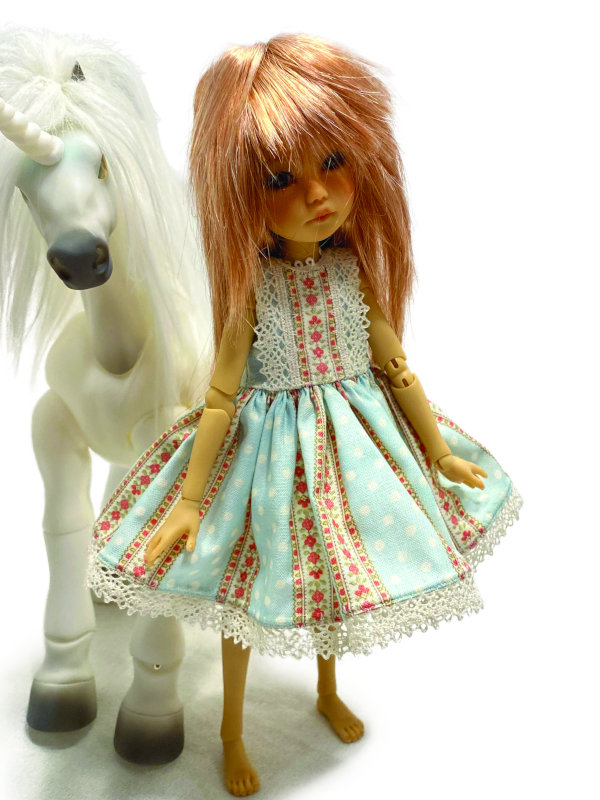 Schmidt's clothing creations are usually sold without a doll. The outfits are bought as stand-alone artwork. She has forged a remarkable reputation as a designer who can fabricate haute couture looks as well as produce innocent pinafores and wholesome little-girl dresses. She's able to envision sophisticated garments and nostalgic special-occasion frocks.
Her talent has caught the eye of doll collectors and artists alike. "I do occasionally provide clothing to a few doll artists when requested," Schmidt said. "Since I like to limit the number of outfits I make, I don't usually want to get committed to making the same thing for a quantity of dolls. I normally attend three to four doll shows a year, and I have a very neglected Etsy shop. I like to keep a good inventory of clothing for a number of sizes. Making outfits for six to eight sizes in quantities of two to four of the same fabric/style quickly results in sewing eight to fourteen outfits at one time. My handyman is always asking me how many dresses I am working on and rolls his eyes when I tell him!"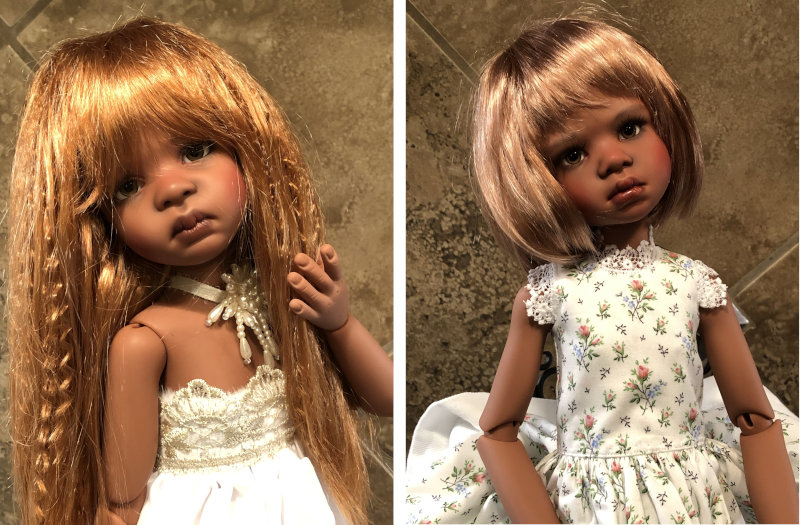 As a child, Schmidt did have play dolls, but she often found them to be uncooperative. "I found them difficult to play with. I wanted to have an interactive experience, which was not possible with the limited flexibility in joints and fixed armature. Dressing them was difficult, and they would just sit. I also had a Nancy Ann Storybook doll collection, but I was not allowed to play with that. When I started high school, all these dolls disappeared, given to other children," Schmidt said.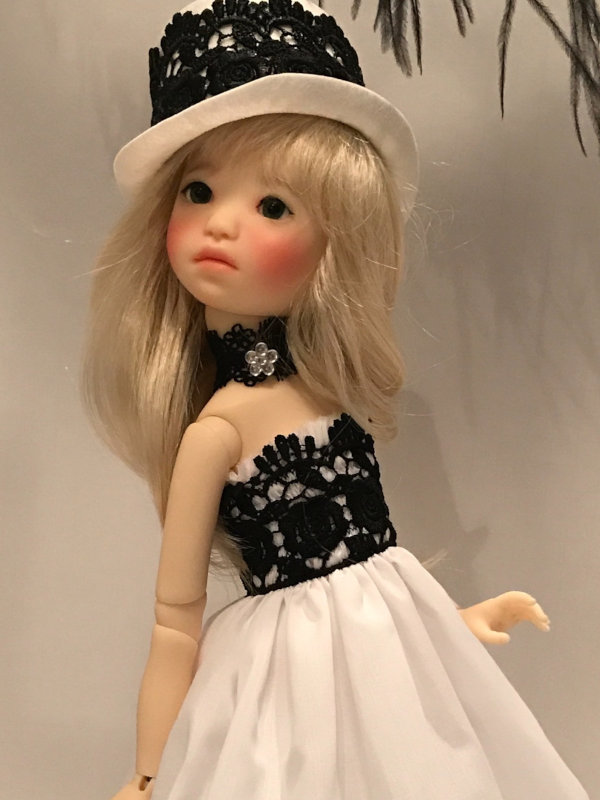 Like many collectors and artists, Schmidt rediscovered and embraced her affinity toward dolls as an adult. In 1989, she was introduced to the work of cloth-doll artist Judy Rankine: "I began to collect her creations. They were beautiful dolls with soft cloth bodies and more flexibility to arms and legs. They could be posed in various positions, and their heads could be positioned by turning. Finally, in 2004 to 2005, I started my collection of BJDs. I realized that finding clothing was difficult and limited in style."
Today, Schmidt specializes in garbing a wide array of BJD sizes. "The MSD size and smaller have become very popular and are fun to work with. The smaller BJDs are fun but challenging," she said. "I would love to have the time to sew for a Bru. Of all the dolls I have seen, I think they are among the most beautiful."
It may be a long time before Schmidt has a stretch of empty time on her hands. She's continually busy with her heirloom sewing and her charitable efforts. She's managed to find a way to tie these two aspects of her life together. "I have worked with a number of charities, providing them with a doll that could be used in raffles or auctions. Most recently, I did a presentation on the history of dolls to a few local Philanthropic Educational Organization (PEO) groups and included one of my cloth dolls to be used by them to raise funds for their philanthropic projects. I've worked with my town's Christmas Holiday of Homes tour where I decorated my home for Christmas. Everyone who bought tickets was eligible to win a large cloth doll dressed in batiste and lace, with detachable wings."
Acknowledging her good fortune is second nature to Schmidt. When asked which fashion icons she currently admires, she names two women who have blended their clothing statements with social observations: Michelle Obama and Meghan Markle. "I have always admired Michelle Obama's style and talent to always be elegant when the event required and suitably attired at all times. I admire Meghan Markle's style of elegant simplicity. That appeals to me. I don't have a favorite fashion designer, but instead appreciate the designers who create clothing that is simple and elegant. Chanel and Halston immediately come to my mind."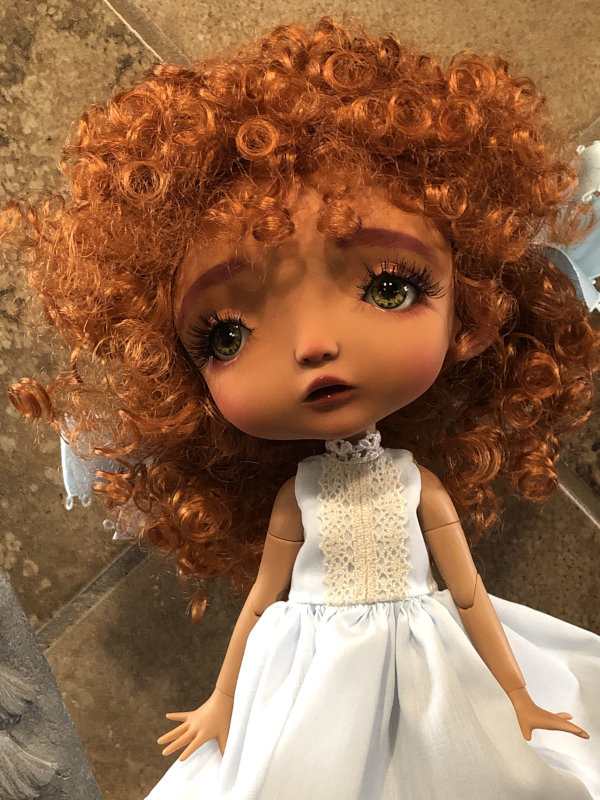 For now, Edith Schmidt is following in the footsteps of these two giants in the fashion world. Her clothing designs are, likewise, simple and elegant. She has come into her own at the best possible moment: "I think this is a most exciting time for the doll world. We have incredible artists who produce exceptional dolls. We are most fortunate to be experiencing their creativity."
Find out more at Edith Schmidt's website, Facebook page, and Etsy store