As I type my blog this week, I have an imaginary monogrammed hankie tucked into my crisp, starched cuff and a slow, mournful lullaby playing in the backdrop, courtesy of an invisible gypsy band that has strolled into my office. It's easy to make believe when you are dealing with the world of dolls. But it is incredibly easy to do more than just pretend—to actually embody a little bit of old Hollywood razzmatazz—when you are discussing the iconic "Gene Marshall" doll.
After 15 years of symbolizing everything that was sophisticated, polished and glorious about the bygone days of Tinseltown, Miss Marshall is calling it quits. We fans are going to endure a torturous and tear-filled goodbye.
A gaggle of the Gene faithful assembled in Philadelphia, June 3-5, 2010, at the Stardust convention to toast her 15th anniversary of transporting us back to the days of charming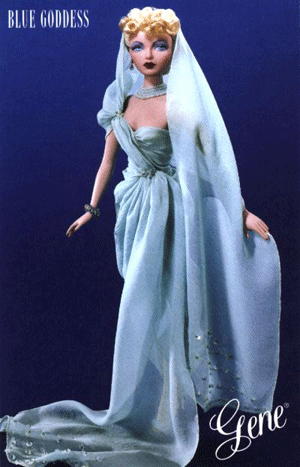 costuming and snappy screenplays. Additionally, her loyal followers were bidding adieu to Miss Marshall, all of her supporting players, and to the man who made her so inspirational, Mr. Mel Odom.
In the August issue of DOLLS magazine (currently available), I had the honor to write the farewell feature about the doll's retirement. It was a pleasure to record how much Gene meant to her collectors, and how much the collectors meant to the entire Gene team who manufactured and marketed her.
Now is my chance to share a personal testament to what Gene meant to me. I first discovered her in an ad in DOLLS magazine back in 1995, and I hesitated about buying her initially. I didn't know whether I wanted to commit to another doll line (I had an armoire filled with "Barbie" dolls already) but the ads, the photography, and the text with its 1940s-style jargon and pop culture references proved too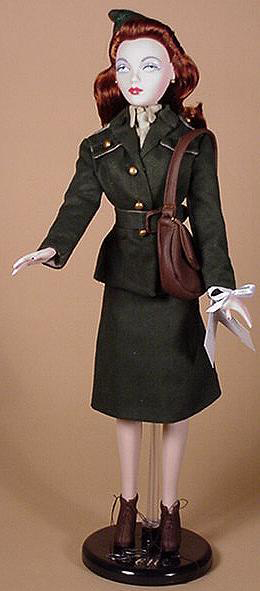 much to resist. When I bought my first Gene doll ("Monaco") garbed in a very stylish bridal gown, I knew this was the start of a beautiful friendship.
I purchased dozens of Genes, and when special occasions arose, I requested evening gowns, lounging pajamas, smart suits and elaborate ensembles for her, not me. I was content to meander about in khakis and a T-shirt, but Miss Gene would never be caught dead in jeans! It was spangles and sequins all the way.
The incredible thing about Gene was that she managed to turn non-doll lovers into doll fanciers. My sister became enamored of Gene and got into the spirit of dressing her up and buying her precious props. My niece and nephew, who were little at the time, clamored to star her in homemade videos, and Gene did indeed perform in front of our cameras, looking every inch the star.
Having Gene in my home added a touch of star appeal. Even standing behind her glass doors, enshrined in my Billy cabinet, bought at Ikea to hold the collection, she was able to get visitors to do a double-take. Everyone wanted to hold her, to touch her and to comment on the gorgeous outfits. She was much more than the sum of her plastic parts.
After 15 years of being on display, Gene must have simply gotten tired. It's understandable. Greta Garbo packed her bags after 20 years in front of the camera, and she starred in only 27 films. Gene made so many more than that, and she interacted with her legion of fans. Garbo was the ultimate recluse, never being comfortable in front of the lens, always savoring her solitude and privacy.
Gene wasn't like that. She allowed us fans to welcome her into hour homes, our hearts and our lives. She allowed us to deck her out in sassy secretarial shirtwaists and plunging diva necklines. She was ours for the dreaming.
I'll miss Gene, Madra, Trent and Violet (the four dolls that I collected), and I wish them happy trails in their retirement. Though Gene never had an actual film career, her handlers evocatively stitched together a storyline that seemed believable and mesmerizing.
I'm reminded of a quote from the classic script "Sunset Boulevard," where Norma Desmond declares, "We didn't need dialogue. We had faces!" Well, that's certainly true for Miss Gene Marshall. She never had a pull-string, never had an electronic voice box nattering out catch phrases. She didn't need anything more than her perfect makeup and indestructible hairdo to label her a star.
Good-bye, Gene. Your light shone brightly and brilliantly. As Humphrey Bogart must have whispered to you in private more than once, "Here's looking at you, kid."  You're the one legend in Hollywood who lived up to your packaging and then some—it was a privilege to share your dreams.
Photo Caption
Gene retained her stellar sultriness, no matter the hair color or length. She radiated as a redhead in her "USO" garb, bedazzled as a blond in her "Blue Goddess" attire and was a blushing brunette bride in "Monaco." I was lucky enough to have each of these incarnations!