The fantasy of million-dollar fashions and age-defying figures that is Hollywood's most breathtaking night has ended, and the awards season has come to a Technicolor end. Or has it? I think host Billy Crystal was right when he joked about the TV audience watching "a bunch of millionaires giving golden statues to one another." Admittedly, there is something odd about seeing highly paid people, who already receive accolades and applause, garnering more trophies and prestige. Still, the night is festive, glamorous, and allows movie lovers a chance to revel in the spectacle and place some wagers on the side. It is the Super Bowl for cinephiles! (I did very, very well with my Academy Award picks.)
Watching it this year, I began to think how great it would be if we could all have an evening of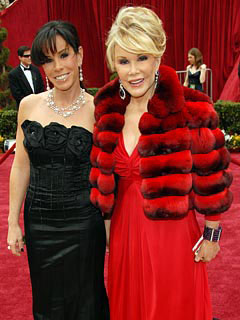 unadulterated air-kissing and sublime sucking-up. Wouldn't it be marvelous if you could go out in your personal life and sport an outfit to-die-for, and have people clap wildly as you entered a room and then smile and take notes as you explain what you are wearing. ("It's from Kohl's, Joan. I got it for 60% off, plus $20 in Kohls bucks, so I only really spent $40 in cash for it! It's a designer knock-off, Melissa!")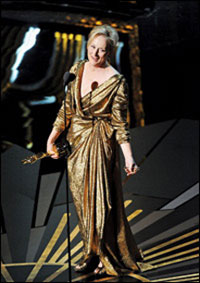 We all should be able to feel like Meryl Streep for a night: revered and cheered. So, with that in mind, I am launching the cyber Finnies, an award for doll lovers who represent excellence in collecting, showcasing, buying, browsing, and sharing their passion for the hobby. The Finnies (an abbreviation of my last name) are shaped like an 11 ½ -inch fashion doll dipped in gold. They are not anatomically correct, and even the rooted hair has a shell of gold emblazoned across it. If Donald Trump were a collectibles magnet instead of a real-estate baron, this is an award he would covet to use as a paperweight in his boardroom. Yes, the Finnie is that golden and that desirable!
As you imagine the Finnie and cradling one for your very own, please picture Angelina Jolie as she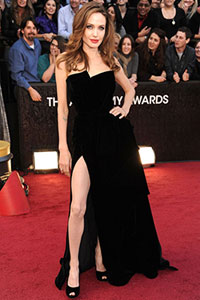 struck that bold and provocative pose on the Oscars stage. Earning a Finnie means that YOU are top of the line in the doll world, and if life were fair, you'd be canoodling with Brad Pitt tonight. (Or Ryan Gosling, or Matthew McConaughey, or George Clooney, or Jean Dujardin. Fill in your own heartthrob!) So, put your arm on your hip, throw your mane back, and flash an acre of legs! These are your awards, and you've earned every inch of the sparkling prize. You go, golden girl!
So, stop the presses! Stop the mold making! The Finnies will be shaped like a world-famous movie star's right gam! Like the dad in "A Christmas Story," who won a fishnet-stocking-clad leg-lamp, that is what these MAJOR awards will be. They are testaments to having a collectible leg to stand on, in the face of all else.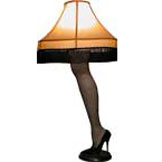 Most Selfless Collector of the Year: If you've debated buying a new pocketbook for yourself, but then decided that a piece of duct tape strategically placed across the tear—and maybe decorated with your daughter's scrapbook stickers (you like fairies and flowers)—could do the trick, you've earned this Finnie. You've delayed sprucing up your own wardrobe and accessories so you could buy that new Goodreau BJD or a brand-new outfit for a doll from Marble Halls. Your sacrifice for your doll's greater good has been acknowledged and awarded. Flash that leg!
Most Athletic Collector of the Year: Viewing a room that is awash with collectibles, you've not let the lack of space get you down.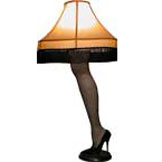 Armed with a feather duster and a mild case of vertigo, you scale the back of your couch and clean the heck out of the top of the TV armoire. You realize that if you move the smallest dolls to the top of this furniture, you can open up more space below. Risking life and limb, you are willing to climb on top of all manner of household appliances to show off your collection. If there is a footstool or an ottoman that can give you a boost, you're on top of it! You've reached new heights in collecting. Flash that leg!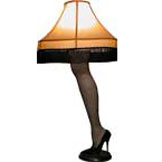 Most Enthusiastic Collector of the Year: If you have your calendar marked for when DOLLS magazine arrives in your home mailbox and in your digital in-box, you are a true-blue doll fan. When you get the magazine, do you devour it from start to finish? That means you are in the running for this nod. Now, here's the tiebreaker. In addition to a cup of tea, a piece or two of chocolate, and a comfortable chair, does your DOLLS reading require a calculator? If it does, you've grabbed this honor. You know that you have to start adding up how much your wish list would cost you; how much your real list will cost you; and how much your birthday, Christmas, Valentine's, and maybe Groundhog Day gifts will cost everyone else for you. You are enthusiastic. Flash that leg!
Most Confident Collector of the Year: When asked by an exasperated visitor, "Why do you collect?" you don't delve into the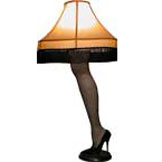 sociological or psychological reasons for acquiring inanimate objects. You don't get frazzled or frantic. You don't lose your temper or your cool. You stare your questioner down, and in your best Clint Eastwood sotto voce voice, you turn the tables on him: "The question should be, why DON'T you collect? Huh, punk? Why don't YOU?" That's magnum steel bravado! Flash that leg!
And finally . . .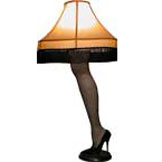 Most Improved Collector of the Year: You've watched episodes of "Hoarders" and have vowed never to let that happen to you. You've gone into your basement, or up into your attic, or into your "junk" closet, and have pulled out the dolls from your past that have been languishing and collecting dust. You've successfully sold some on eBay; donated others to charity; and gifted a few to young children who have the potential to be good stewards in the future. And when the sun has set, and a new day has begun, you've looked at the state of your current collection, and you know it still has room for one or two more dolls . . . or maybe three or four. You are going to buy with quality in mind, but you won't beat yourself up if it spirals into quantity. Don't waste your time being angry at yourself for such a fleeting, fun pastime. Life is too short—your doll collection shouldn't be. Go ahead, and flash that leg!