DOLLS writer and photographer Chris Varaste visited Mattel headquarters in El Segundo, Calif. He met with Mattel designer Bill Greening and Melissa Terrick in marketing to talk about the brilliant new line, Barbie Basics. Without further ado, we bring you the special interview the three conducted among themselves.
Bill Greening (BG) (pictured left): Hello readers of DOLLS magazine. I'm designer Bill Greening from the Barbie Collector (BC), team and I'm really excited to present a new line of dolls called Barbie Basics, a really fun line of dolls perfect for adult collectors who want to play with their "Barbie" dolls. The series is 12 dolls, 12 different face sculpts and a variety of skin tones, and each doll comes wearing a little black dress (LBD). Now to encourage the play, we've also made some great accessory packs that go with the little black dress like a fashion editorial. … So, we designed four different packs—a silver kind of urban pack, a really bright '80s pack, a gold pack if you like a lot of glean with your dolls and lastly, an evening pack. So again, just like a real fashion editorial, you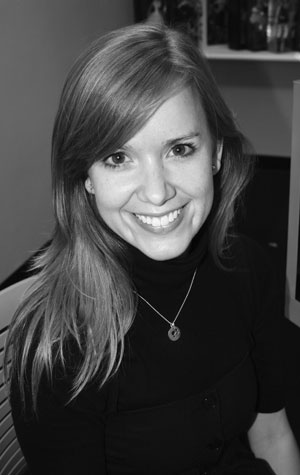 can take your LBD and create lots of different looks. We're encouraging the collector to have a lot of fun at a low entry price point for BC and customize and stylize and play with your dolls and get a really different look. Brush their hair, change their clothes—whatever you want to do. Of course we have a lot of really great face sculpts. Each of the dolls come with a model number so what collectors often refer to as the "Mackie" face will be Model No. 1. For the entire series, the sculpt will be referred to as Model No. 1, and this is Collection 001, which is the debut collection for the spring of 2010. Each doll will have a different model number that will refer to the face sculpt. There will be more information about the face sculpt if you log onto www.BarbieCollector.com, where they'll talk about some of the great dolls that feature the face sculpts. Like my favorite that collectors called the "Steffie" face sculpt, you get a great history of this face; it's one of the longest running faces and it looks really great in this line.
Chris Varaste (CV): Can you tell us about all 12 face sculpts, introducing them from 1 to 12? What's amazing about this idea?
BG: OK, I'm going to take everybody through the variety of face sculpts we offer in this line and I am joined by Melissa Terrick, who is part of Barbie Collector marketing. She will take you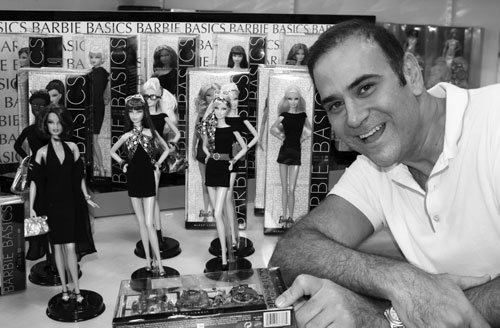 through some of the exciting marketing plan.
CV (pictured left): Hey Melissa!
Melissa Terrick (MT) (pictured above left): Hi!
BG: Melissa's a lot of fun. …
MT: I love this line; it's one of my favorites!
CV: Me, too—what I'm curious about are the 12 face sculpts. … Could you introduce each doll and tell us a little bit?
BG: OK, the first doll is the Mattel closed-mouth that
collectors refer to as the "Mackie" face sculpt; she is No. 1, or 001. We did her on a nostalgic skin tone. She's got pale blond hair, pale pink lip, comes in a really cute (they all come in) little black dress, which are all different for each of the 12 dolls. This is what most collectors will traditionally think of as "Barbie."  Then Model No. 2 …
CV: Wait, let me guess. That is—oh, she's one of my favorites—that's the "Lara" face sculpt.
BG: That's right; now this is another popular face sculpt for Barbie Collector.
CV: And where did Lara come from?

BG: Originally used in the Generation Girl line, which I believe launched in '99, and it's been a favorite at Barbie Collector. I know Robert Best likes to use it and many collectors enjoy this sculpt as a brunette, so we did her with the dark hair and pink lip.
CV: She is gorgeous!

MT: Sultry!
BG: Sultry, really sophisticated.
CV: Collectors will definitely recognize that face sculpt because it's been used so much in the past five years alone—she was used for Versace. …
BG: OMG, so many … some of the Vera Wang brides have used this sculpt, so it's a really popular sculpt.
CV: What determines the popularity? How is it that she was a Generation Girl in the play line and that face sculpt is now predominantly used for Barbie Collector for so many? … She's used even more than the Mackie.
BG: I think each designer has their favorite face sculpts. I think the versatility adds to how much it's used. I think the Lara is a great face. The Mackie is a great face. It paints up really easily and beautifully each time, so it can really represent a lot of different looks and ethnicities. I think that's why it's so popular and it also has a really subtle smile, so if you want to show a doll that has a little bit of teeth but not too smiley. …
CV: And she's very contemporary looking. …
BG: Yeah, it's a real fresh face. … All the dolls in the collection feature the ModelMuse body, but this doll is on a reverse hip that was first used on the "Goldie Hawn" doll. So as you can see on Barbie, the weight of her stance is on her right leg—this doll is on her left. So we're trying to add a little variety to the line so that when you line them up it looks like a real line of models.
MT: It's very dynamic, right.
BG: Let's move on to No. 3, as I mentioned earlier, my favorite—this is what collectors refer to as the "Steffie" face mold.
CV: Oh, you love the Steffie face sculpt!
BG: It's been around since the early '70s; it was first used on Barbie's friend, Steffie. I love it. I think it's got a really sweet face, but it can also look really sophisticated with the right face paint. This doll we did as a medium brown hair color with straight bangs—here's an example of a model that we customized with pieces from the third accessory pack. She's really cute and her dress is really simple, so you'll have a lot of fun accessorizing it.

MT: I love what you did with the scarf here … almost to have it as the halter.
BG: Right, there are a lot of different ideas.
CV: I want to say that if there's a resurgence of Steffie in the line, it's thanks to you, Bill, because I really believe it was with your initiative that that face sculpt made it back.
BG: Thanks; I think a lot of collectors love this face because it's represented so many classic Barbie friends like "P.J." and "Whitney."
CV: Well we all grew up—anyone in their thirties grew up with that face sculpt.
BG: Right, and this was used for a lot of Barbie friends over the years so I love it. I'm glad it's still used.
BG: So Model No. 4—a very dramatic looking doll—is one of the three African-American dolls in the line. I'm really proud that we have got three different skin tones in this line. It's really about diversity. This is the "Goddess" face mold, and it's our darkest African-American skin tone. She's got a really short, cropped hairstyle.
CV: She's gorgeous, too!
BG: Yeah, the dress, too, has got a really deep back.
CV: Oh, wow, and the skin tone is so lustrous. …
BG: Yeah, looks really good with the gold.
CV: I love the Goddess face sculpt.

BG: Yeah, it's really pretty, and it's another versatile face sculpt that can be used for many ethnic dolls.
CV: Well they're like what I call the "Millennium faces." They're all the new sculpts.
BG: It can be used for African-American dolls, Asian dolls, Caucasian dolls. … It works very well for a variety of dolls. I know Chris is really excited about this next doll. She is the Asian doll in the line; this is Model No. 5, and she is what collectors refer to as the "Kayla" or the "Lea" face sculpt since those dolls were launched at the same time and it's a real …
CV: Stunning!
BG: And dynamic looking …
CV: Gorgeous and every doll that uses that sculpt—it's like a good luck charm.
BG: Right.
MT: This one is my favorite (she hands doll No. 6 to Bill). The great thing about this line is that anytime you look at all 12 dolls, like the "vogue" shot we have on the back of the package, the 12 dolls look so diverse that you always pick the doll that looks closest to you and this one doesn't have bangs, but she has the blond hair and she's smiling so … that's why I love her (laughs).
CV: And who is she?

MT: Melissa! (All laugh.)

BG: This is a rarely used face sculpt. I think what is great about this line is that we get to use sculpts that are rarely featured in the Barbie Collector line, and collectors may have missed them over the years. This sculpt was used for the "Leann Rimes" doll; it was sculpted after Leann Rimes but it made its first appearance there and it was also used on the festivals of the world, I believe for the "Carnavale" doll. It just doesn't get used that often but it's kind of my new favorite. I think it looks really pretty; she's got a big smile but it doesn't feel like a cheesy smile, and we did her in a tanner skin tone and golden blond hair so it looks different than (picks up No. 1).
CV: Very different, very sweet looking doll and cheerful …

MT: You just want to be her friend.
BG: Now Model No. 7 is our redhead of the line and this is a new face sculpt. This was originally developed by designer Linda Kwan. It's been used on very few dolls. It's been used on "Aphrodite." It's been used on "Kentucky Derby." What Linda did was she took the upper part of the Mackie face and the lower part of the Lara face and fused them together.
MT: That looks cool.
BG: This face is called … I've heard it called the "Linda"; I've heard it called the "Lackie"; and I've heard it called the "Aphrodite. …"
CV: I think we call it the Aphrodite.

BG: Yes, I think that was what Linda was hoping it would be attached to.
CV: And it's so cool that they were able to combine two of the more popular faces at Mattel.
BG: I think it has a real different appeal than the Lara for sure. I think it has a really pretty face, and I think we're going to use it more and more in the collector line.
MT: No. 8.

BG: This is No. 8, and it's a classic face that's been used on many dolls, including the "Byron Lars" dolls. I believe it's pronounced, "Mbili." It's a great doll for an African-American sculpt—it has full lips, a slightly wider nose, a very glamorous, very sultry face. I love the closed mouth. We did her in a medium skin tone; I think it looks really nice. Her hair has a nice light auburn feel to it, which lends a contrast. Her dress is sexy and sophisticated so …
CV: Hold it. I just want to get the one-shoulder look—that's beautiful—I love the dresses.

BG: The dresses are all done in a nice black knit, so they will fit a variety of doll bodies because they're stretchy. So if you want to take the dress off and use it on another doll, I think it should work on a doll like a Silkstone. I haven't tried it but I'm going to assume it does.
CV: Now who do we have? This is No.9?

BG: Yes, this is No. 9. This face sculpt has different names. …
CV: Wait, let me guess.
BG: Go ahead …
CV: OK, I'm gonna go with the "Diva Midge."

BG: Yes, it's Diva Midge—first used on the Diva but really frequently used for main line (the play line) for Midge.
CV: New Midge.
BG: New Midge, not classic Midge, new Midge.
CV: Just for those who don't know—classic Midge was Barbie's first friend in 1963 and she was reintroduced in the line …
BG: … in the '80s and sometime in the '80s, Midge started adopting this head sculpt, so it was really used a lot on the Midge dolls around the '90s on what you'd call the "beach" line with swimsuits.
CV: Isn't it wild to see that face sculpt with such different style hair and makeup?

MT: I love that hair. That bob is gorgeous—it's so Anna Wintour.

BG: That's a good one! It's a face that was used a lot in Barbie playline, and it went out of circulation for awhile. We did use it on the "Speed Racer" doll for Trixie, and I got a lot of great collector feedback on that doll, saying how fresh and cute it looked so I wanted to re-create that freshness. We did her as a platinum blonde—I think it's really cute.
CV: Really cute. When you talk about customizing—one of the brilliant things about this line is that you were able to freshen up these faces so that they look so different from the way we're used to seeing them. I mean that Diva Midge is so different than the actual Diva Midges that you really wouldn't be able to tell it's the same doll. … That's so inspiring to a doll artist.

BG: Right, definitely, like you said, if you're one of those doll artists who have the talent to repaint and reroot, you're going to have the best selection of faces to pick from. This is the biggest variety that Barbie Collector has ever offered at once at a really nice price point, so even if you're an aspiring doll artist, it's not going to break the bank.
CV: Are you an aspiring doll artist (to Melissa)?
MT: Well I'm very much a beginner so this line is perfect for me because I'll be able to take the accessories and work with them so as we know, she is my favorite (picks up doll) and this is my favorite dress. So I can get her, redress her in this dress and then, I think my favorite pack is this very '80s …
CV: Oh, that's fun.
MT: Different colors, fresh—so it's great and we know there are so many great customizers out there doing wonderful things. They now have 12 different sculpts to use with all these great hairstyles, so it's really exciting.
BG: We should mention all the dolls have saran hair so if you're a customizer that likes to give your doll a boil perm or restyle the hair, that's another reason we did saran on all the dolls.
CV: I can't wait to see what some of those talented artists are going to do.
BG: We have quite a few things lined up. Melissa did you want to mention it?

MT: Sure, so we're launching online in December, so we'll have all the info about all the dolls, and we also be featuring some of our favorite doll customizers and designers. All the names you're familiar with … you'll be able to see what they've done with this line, so you can check back often, as we'll be rolling them out throughout the month. Then in January, we're going to open it up so everyone can post their own creations, including designers and customizers. We'll have tips and how-tos, like for the boiler perm, so you can take your doll and make her your very own.
MT: That's No. 10.
BG: I think this is an acknowledgement that Barbie Collector is really on board with the new community that is taking the doll out of the package and …

CV: Get her out!
BG: Right, 10 years ago it was a big taboo to take your doll out of the package, so we wanted to make it fun in an accessible way.

CV: And bring back play …

MT: Exactly, when I was a little girl, I used to love to play Barbie. I had so many Barbies, they all had unfortunate haircuts and styles, but it was so much fun and as an adult, you want to be able to still have that fun and now you can take it to a more fashion-forward level.
BG: Every package states, "customize, personalize, play" and that's what this line is about. So where are we?

MT: 10
BG: No. 10 is another really great face sculpt, rarely used, and Chris, what do you refer to this face sculpt as?
CV: Um, I think, well let's see, I remember her from Fashion Fever so I'm going to say Fashion Fever "Nikki"?
BG: I think it was "Deidre" (pronounced Day-dree) and Robert (designer Best) I believe used this on one of his annual year dolls. … I think it was 2002.
CV: She's very pretty.
BG: I'm not sure what the collector name for this is, but it has a really pretty African-American face sculpt and a really beautiful smile, really beautiful cheekbones—she's great!
CV: And she's used in the new Sisters line?
BG: I'm not sure on that but you might be right. This doll's got a really dramatic-looking dress.
MT: Very, very dramatic. She uses a lot of double-sided tape to hold that dress up!

BG: Right, and she's got very long, Naomi Campbell-ish hair. We can say that, yeah, she's a really great-looking doll.
BG: Here's No. 11.

CV: (Gasps) Oooooh!
MT: I have to say everyone chooses their own doll and this one, we've had lots of different people coming up and, I think, she is, she's definitely …
CV: … the most popular.
MT: Right.

CV: I was going to say that that was the one I grew up with and I always loved the "Teresa"—that is the Teresa! The Teresa face sculpt, really one of the most beautiful faces Mattel has ever created. I mean Mattel is known for beautiful, beautiful face sculpts but this one—and she was used a lot for Italian and Latina.
BG: Right. Primarily, but she wasn't used for the first Teresa doll but it is the one that was used predominantly for Teresa in the '90s and early 2000s. So it's a really sexy face. It has kind of fallen out of use in the Barbie play line in the past few years, so again, it was a face that collectors really missed. …
BG: No. 12! So this is a rarely used face sculpt, and collector-wise I think people call it the "Tango" face sculpt. That was the doll it first appeared on.
MT: So we just went through all the different models. … All of these 12 dolls are rolling out for our spring 2010 line but for the next season, we'll want to use this sculpt again but she may have a darker skin tone and raven black hair so she would still be Model  No. 1 but Collection 002 instead. … And if we introduce additional sculpts, they would then become Model 13, 14, 15 and so on. So then you get to see how all of the different sculpts work with the different skin tones and hair color and makeup, and it's really, really fun.

CV: And what made you go with the numerals as opposed to the names?

MT: We thought the numerals were cleaner and many of the dolls have several names among seasoned collectors. In addition, this is an outreach to our avid collectors, as well as girls of all ages who want to play Barbie. We thought it would be simpler to call them by Model number, as it would be an immediate read, so we love it; it works great with the collection—very chic.
CV: It's so great to see what the possibilities are and the fact that you guys are going to experiment that way, along with the customizers, is really exciting. … The legacy lives on with the face sculpts, whether you call it the No. 1 or the Mackie face. Collectors know what that means.

MT: And the great thing is on our online segment, we will have all the backstory on all the different dolls, so if you aren't sure when she was introduced, we'll have all that information for the avids who want to know all of that.
BG: There's going to be a lot of great information out there on this line; it's really a great education for a novice or even an advanced Barbie collector.
CV: It's very elegant.

MT: And it's exciting to be able to do your own creations and be able to post and share with the entire community so. …
CV: Well that's fantastic.
BG: Any other questions Chris?
CV: I want to thank Bill and Melissa for taking the time to go through the entire line with us, and I'm going to ask you one more question. When can I buy it?
BG: When can you buy it—Melissa?
MT: The dolls launch Dec. 1, so you will find these dolls on www.BarbieCollector.com, as well as all the major retailers. The really exciting thing is when you go into brick-and-mortar store, when you walk down the Barbie aisle, you are going to see this amazing merchandizing statement. … So online it is Dec. 1, and in stores it will range anywhere from mid-December to mid-January.
CV: Great, thank you.
View this article in the digital edition, DOLLS Interviewed.