Fire and ice are a dynamic pairing—definitely opposites, the two elements are often linked in poetry, mythology and popular culture. In doll artist Lorella Falconi's life, fire and ice, likewise, mesh together. Born in Italy, in a small town by the Adriatic Sea, the talented sculptor resides today in the colder clime of Toronto, Ontario. Passionate by nature and proud to declare that "dollmaking is the fuel that feeds my fire," Falconi glided toward this vocation because of ice hockey. The coldest of sports led her to discover her most fiery ambition.
"We had three boys in Little League hockey, and it was hockey every night! I needed to do something different at least one night of the week, so I saw night classes being offered at one of the high schools. I joined up," the artist recalls. "I've always enjoyed learning new things, and porcelain dollmaking was something that I had never tried. After my first class, I could hardly wait for the second. I was completely captivated by dollmaking, and I actually still am. More so today than ever!"
It was the late 1980s when Falconi found her calling. Her teacher noticed her student's enthusiasm and finesse and encouraged the young mother to enter competitions. Falconi did and fared very well. "Shortly after that, family and friends began to ask if they could purchase my dolls and my Christmas ornaments. Soon I started a small business in porcelain dolls, which were mostly antique reproduction dolls."
As time passed, and the budding entrepreneur's confidence grew, she began to branch out into her own designs and visions. Having had a childhood filled with arts and crafts, encouragement and support, Falconi was not afraid to delve into the corners of her mind and see what she uncovered.
"When I was a child, crafts were entertainment and a form of play for me. I absolutely loved to sit and create for countless hours. My father was a mechanic and was always tinkering with something. My mother was a seamstress and she taught me to work with a needle and thread. My grandmother was very skilled in knitting. I was taught to knit and embroider from a very early age. I still have my first embroidery hoop that my grandmother purchased for me. So, you see, creating something from raw materials has always been rewarding for me. It is challenging to create something from nothing, and it's something I feel very passionate about."
Falconi's collectors also feel passionate about her array of doll artistry, which runs the gamut from nostalgic toddler dolls to breathtaking ladies to divinely inspired goddesses and fairies. It is a potpourri of characters that have personal significance and appeal to their creator.
"I never set out to put a message across when I start creating my dolls, but when I look at them—especially the fairies—they seem to subconsciously relay a message of wanting to take care of things. And my children dolls express innocence and the beauty of childhood. I conjure these up in my mind, but my friends and family tell me they resemble my actual children when they were little."
Issues that hit close to home are also embodied by many of her one-of-a-kind offerings. "I get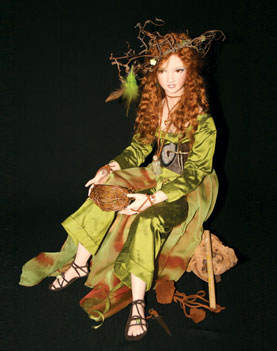 inspired to create dolls by things that have happened in my life or by what's going on around me and world issues. For example, 'Emerald, Goddess of the Forest' is trying to save the rain forest and plant life. 'Sugar Pie' drives an earth-friendly car made of recycled soap dispensers and papier-mâché. 'Alley: In My Own Little Corner' is about being bullied. The panels that accompany her create her own little world where she is free to be whoever she wants to be."
The machinations that go into "birth­ing" a doll make the process extremely personal and extraordinarily multilayered. It draws upon the artist's reservoir of memories, talents, strengths and internal yearnings. It is a way to demonstrate her best capabilities while also exposing her childlike and vulnerable sides.
"I really enjoy creating fantasy and fairy dolls because I can let my imagination run wild. I can create whatever my mind can dream, and I can express my inner emotions through them. I love creating my lady dolls, because I can work on very elaborate costumes, and I get to focus on adult or historical topics. I've discovered that when you tell someone you're a doll artist, they usually think of dolls as toys, not as art. If you were to say that you do figurative sculpture, however, they then associate it with art. Creating dolls is a very complex task. Not only do you have to start with a sculpture and give it the ability to move, but you have to then incorporate your other artistic abilities. You have to call upon your costume design and your accessory design skills. It is very complicated."
When Falconi reaches the end of her rope in her home-based studio and finds that she is staring, bleary-eyed, at a yard of fabric, she relies upon the strength and kindness of her family. "My sons are adults now, and they and my husband are supportive and encouraging of my pursuits. My husband is very involved in my doll business. He takes care of our family, home, accounting, paperwork and everything else. He still finds time to smile and to bring me a cup of tea! I couldn't do it without him."
Her dollmaking is her fulltime career these days, and that's a fact that continues to amaze and astound her. "I really have no formal training. I'm mostly self-taught by books, practice and going back to the drawing board too many times. Myself and all other doll artists are basically doing the same things. We're all creating the doll. However, each one of us is following her own ideas and interpretations, and each of our results is beautiful in its own way."
When the devoted mom signed up for her night class more than two decades ago, she could never have imagined such a winding and whimsical road before her. "I'm living proof that one should always follow her dreams. Success isn't always measured by monetary value but, rather, by the rewards you emotionally receive from creating something that brings joy to you and to others. You should never take criticism offensively but, rather, constructively. I've always tried to do my best, to improve and to never give up."
With an eye toward her future, she plans to continue mining her past and her present for scenarios and vignettes. "I look at my Lorikins, and they personify my full-circle growth as an artist. I started creating them as toys for my children dolls. I love creating toys and accessories, and when I make the Lorikins, it really feels like I am playing. I can get carried away. As a child, I created my own toys. The main dolls in the Lorikins Collection, so far, are 'Cookie' and Sugar Pie. These dolls usually come with wood accessories, and I like them to have a retro feel with bunny, kitten and puppy decals. They are reminiscent of the 1960s. I also like when they have my signature aqua color. This way, they all look like they belong to the same collection. Because they are so time consuming, I can only create a few per year."
Though she'd like to be able to make more of these charming, nostalgic icons, she can't at the moment. Her fans have to be patient and content as she invents each one, nurtures it, and sends it out be loved and collected. Perhaps Lorella Falconi will never achieve the status of household name, but she has staying power and commitment to quality, excellence and personal integrity. "If you are passionate about what you do in life, and it comes from your heart, that is all that really matters in the end."
For more information, visit www.lorellafalconi.com or e-mail lorellafalconi@hotmail.com.