Photos courtesy of Cooper Dolls
Yes, I know it is still November, and Christmas is MORE than a month away, but if you're anything like me, you are desperate for that jolt of holiday bliss right about now. The musical "Mame" birthed lots of popular songs, but it also debuted a caroling standard — a tune that gets played on the radio every Thanksgiving weekend and beyond.
"We Need a Little Christmas (Right this very minute)" is frolicking through my head — both the Broadway Angela Lansbury version and the more challenging Lucille Ball film performance. It doesn't matter if the singer is a soprano or an alto, the message is really spot on. The prospect of Christmas is sure to elevate people's spirits and roll in the new year with a giddy, jubilant bounce.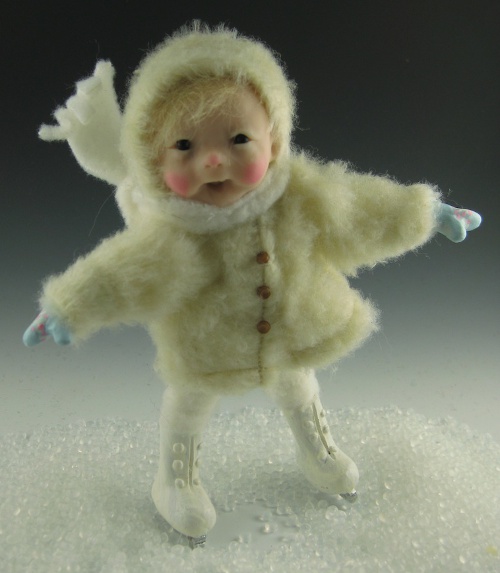 A doll artist who knows a lot about the ideal Yuletide season is Elizabeth Cooper, of Elizabeth Cooper Studio, and it was my great pleasure to correspond with her right around this time last year. She sent me a charming array of images for an article I was doing, and not all could snowball into the layout. Now, with this weekly blog, I can showcase her total blizzard of creativity.
Having been a staple of the doll-artist community for more than 35 years — she marks her participation from 1980 — Cooper is adept at making fairies, Santas, and tons of quirky, good-natured, heart-tugging children. It is the kiddies that she coaxes to life that most impress me. They are children with wide, open eyes, mirthful grins, and poses that show how they are loving life — and are excited to be twirling and swirling in the snow!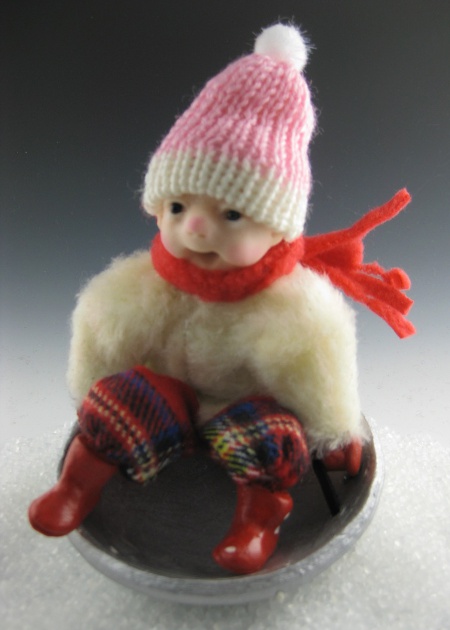 All seasons are represented by the talented artist, but her wintry ones are what I'm highlighting today. Just like no two snowflakes are the same, no two Cooper dolls are exactly alike in their reaction to whatever holiday high jinks they are pursuing. The tykes that she creates run the gamut from cheerful to ecstatic, happy to out-of-their-minds joyful. It's no wonder that these angelic characters are perfect emissaries for conveying peace, hope, and happiness. They all seem that their favorite things in life involve wrapping gifts, making snow angels in the freshly fallen embankments, and sharing steaming cups of hot chocolate. ("There is a Marshmallow Manifesto," Cooper narrated. "All marshmallows in hot cocoa must be evenly distributed and counted!"
Living in Medina, New York, Cooper hails from a part of the world where when it snows, it REALLY SNOWS! We're talking gusts and blustery breezes that carry snowflakes upon it. Rather than retreating and shying away from the inevitable cold-weather onslaught, Cooper and her dolls rush out and receive it with open hearts and arms.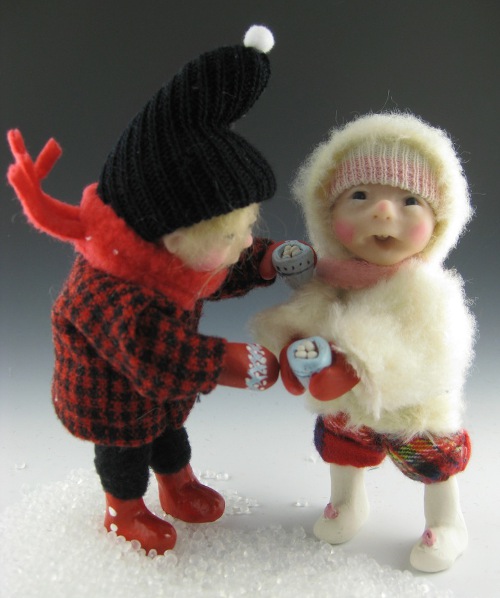 Cooper shared with me how the month of December — and, of course, the run-up to it with festivals and festivities around Thanksgiving Day — holds a treasured place in her heart: "As the song goes, and in my mind, Christmas will always be the most wonderful time of the year. It is memories of my youth, the toy store windows, the spotting of the first snowflake, building snowmen and sledding down the popular Gallagher's Hill in our small town, that give me the inspiration for my work."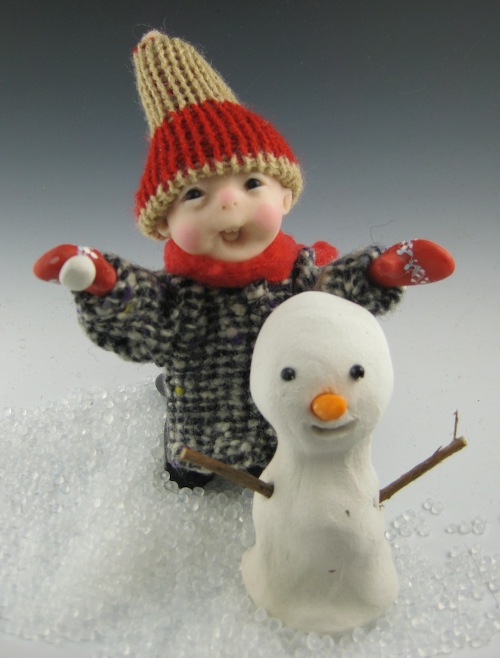 Her dolls — many of these measuring 6 inches and made of polymer clay — are reminiscent of her own outdoorsy adventures. In many ways, they are autobiographical renderings of her own childhood experiences, which share a warmth and a glow from such popular films as "A Christmas Story" and "It's a Wonderful Life."
"Our mother, in her attempt to save us from the elements, would dress us in so many layers, that it was nearly impossible to navigate. If one fell in the snow, you were like a beached whale until a brother came and pulled you up," she pointed out to me with a nod to nostalgia. "It was not until all of the buckles were buckled, the buttons buttoned, the scarves tied, the thumbs positioned in the mittens, that the call of nature was heard!" she added.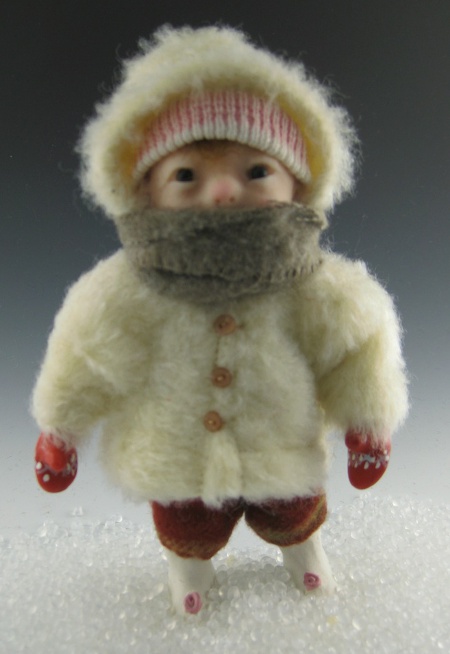 "We wore itchy wool and used empty Wonder Bread bags over our socks to keep our feet dry in our boots," Cooper further recalled. "I am sure those of my generation will remember the same."
The recognition of one's own youth is what imbues Cooper's dolls with such empathy and familiarity. With their realistic wardrobe, their rosy cheeks, their visible clear-eyed mind-set, the Cooper dolls embody all the innocence, wholesomeness, and optimism that define young children poised on the brink of another year, another unwritten chapter in their lives.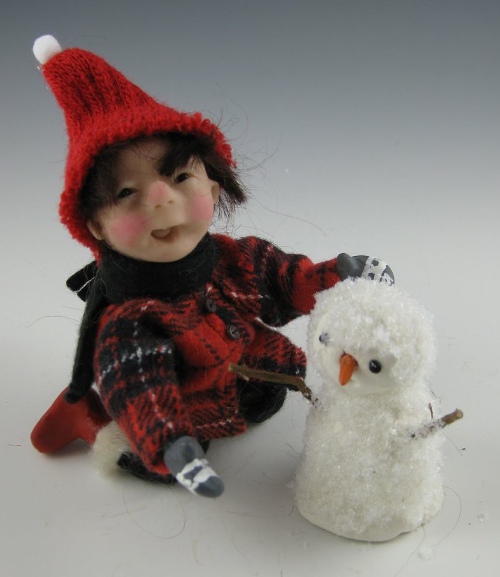 Elizabeth Cooper recognizes that her dolls have a connection to her own life and times, and therefore a link to the lives of her collectors too. "These dolls lend themselves well to creating vignettes of wintry, holiday scenes that capture the joy of the Christmas season. I hope they will become heirloom gifts handed down from one generation to the next. That would be tip-top and hunky-dory," she expressed to me.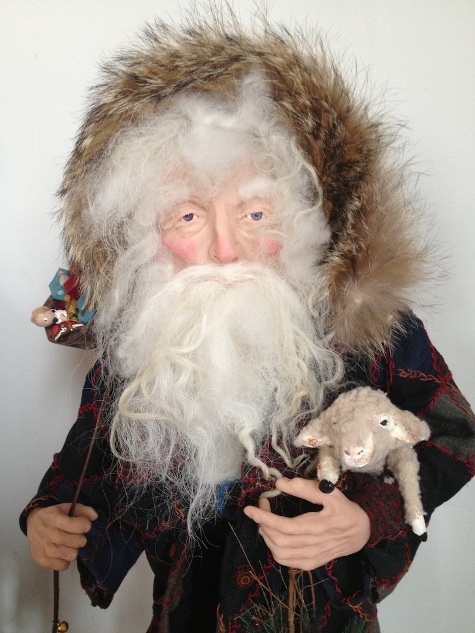 From her heart and hearth, to the homes of her fans — old, new, and soon-to-be — Cooper wishes everyone a merry Christmas and a happy holiday season.