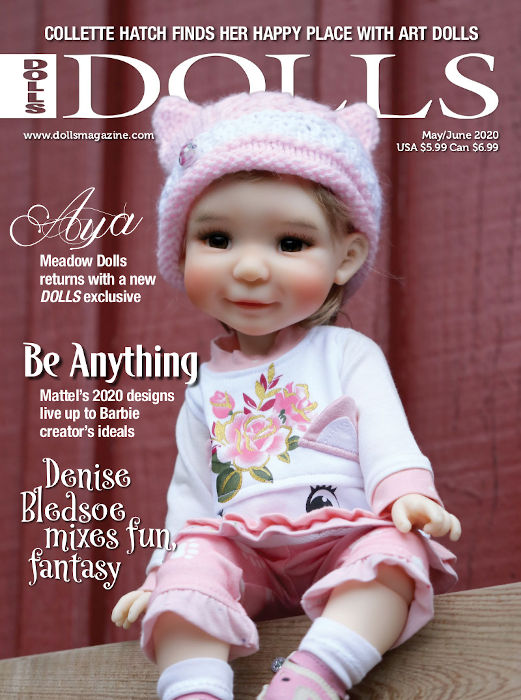 The digital magazine can be seen only by paid members who are logged in.
Have a website login already? Log in and start reading now.
Never created a website login before? Find your Customer Number (it's on your mailing label), click above, then click First Time Registration top-right.
Subscribe and you can be reading in 5 minutes.
Still have questions? Contact us here.
The May/June 2020 issue of DOLLS features 48 four-color pages. This issue features the debut of a new Meadow Dolls BJD available exclusively through DOLLS, along with stories on fashion dolls, artist dolls by Collette Hatch and Denise Bledsoe, our annual spotlight on BJDs, and more!
TABLE OF CONTENTS
Features
8 Be Anything
Mattel's new designs for 2020 live up to Barbie creator's ideals
By Stephanie Finnegan
12 Julie Manley
Combines history, fashion & fantasy in her custom creations
14 Aya
Meadow Dolls returns with a new DOLLS exclusive BJD

34 Staying Positive
Collette Hatch finds her happy place with art dolls

36 OOAK Characters
Denise Bledsoe mixes fun & fantasy
By Pam North
DOLLS Presents BJDs

BJD3 Halls of Imagination
Connie Lowe continues to expand her BJD world

BJD6 Faith & Family
Inspire Rose Lacefield's Bbflockling dolls
By Rose Lacefield

BJD8 Cowgirl Up!
Pat Moulton's new BJDs are ready for a roundup!

BJD10 First Things First
Proper design is key to making a modern BJD
By Joe MacPhale, Ancient Whispers LLC

BJD14 BJD Scene
SUBSCRIBER BONUS
Making a BJD Part 1: In the magazine (above)
Making a BJD Part 2: Sculpting a Doll with Movement in Mind by Joe MacPhale
Making a BJD Part 3: Out on a Limb by Joe MacPhale
Making a BJD Part 4: Upper Body Strength
Making a BJD Part 5: Time to Join
Making a BJD Part 6: Time to Blush
Departments
6 Editor's Notebook
38 Doll Scene
40 Antique Q&A
41 Classifieds
42 Curious Collector
43 Portraits
44 Paper Doll
46 Event Calendar
46 Advertiser Index