When the gals and guys who know which dir­ection hems are heading get together for Fashion Week, they are thrilled to discover new names and outrageous outfits. There's a heady feeling connected to revealing a never-before-known designer and unusual label. But the fashionistas truly revel in ab­sorbing and applauding the well-known, well-established classics. They clamor for Chanel; give ovations to Oscar de la Renta; and drool over Dior.
The same holds true for Toy Fair week. Folks in the business of fun scramble to and fro, hectically seeking the next big sensation, the next huge hit. The gals and guys who know which direction the Wiggles will be wiggling in love the allure of the un­known. They perk up from the unpredictable. However, like their Vogue counterparts, the doll-istas delight in the familiar feel of a classic name, a tried-and-true face.
The Alexander Doll Company is an oasis from the wacky and the weird. Not depending on flash or hype, the doll company is renowned for its ethereal elegance, its classic good taste and its ability to modernize without compromise. A new line of ADC dolls means eye-catching costumes, fabulous faces and recognizable virtues. Well-dressed and well-made dolls em­body the best of home, hearth and heart. Alexander honors pop culture icons, storybooks, holidays and traditions year in and year out, and the company's ability to craft exciting launches has never diminished.
"As well as bringing new ideas to the market, we are challenged every year to design and create collections that speak to Madame's vision of beauty, style and quality. We are confident that the 2006 line mirrors Madame's legacy and will touch a little bit of all of you," asserts Gale Jarvis, president of the Alexander Doll Company.
"We are very enthusiastic about the renewed focus on the Cissy dolls," Barrie and Danny Shapiro, proprietors of The Toy Shoppe, enthuse. "In doll history, Cissy is the 'premier diva' of fashion dolls. She was the first modern doll to have an adult female figure, and she was the first to wear high heels. This year's limited-edition, 21-inch Cissy dolls pro­mise to be so very exciting!"
Maria Cruz, senior designer at ADC, agrees with the outpouring from the Shapiros. "I must say that after all I worked on this year, I am most proud of 'Couture Noir' because she is very edgy, elaborate and over-the-top from anything we have ever done. The fabrics, the style and the entire presentation are all very unique. Being able to give her that incredible feathered wig, which I have never seen anywhere else, was a real thrill. I love to do things that are innovative, and 'Couture Noir Cissy' epitomizes that." The comely Cissy is striking in the 'Couture Noir' ensemble, shooting off sparks. Her costume is sleek and suggestive, sexy and stunning. It's no wonder that Cruz is so proud of her handiwork. In addition to this lusty side of Cissy, the fashion icon also is decked out in a retro 1950s gown, designed by Timothy J. Alberts. Her Twilight ensemble is a nostalgic nod to Brigitte Bardot and her voluptuous, va-va-va-voom silhouette.
Cissy is especially curvaceous in her Alberts original, so it is interesting that she's causing a stir due to something flat. "Charmed Life Cissy" is the first-ever flat-foot Cissy doll. The redheaded, blue-eyed doll is garbed in a full-length bodysuit, an Ultrasuede skirt and boots with a shoulder bag. The attractive miss also comes with a plaid taffeta dress resplendent with rhinestone trimming and ballet flats.
Coquette, another dolled-up doll, is back with tons of looks and versions: "Crowd Pleaser Coquette," "Triple Take" and "Rose Shimmer Coquette" are just some of the offerings that combine intricately detailed costumes, first-rate accessories and sparkling jewels. Joining Coquette is Jacqui, available with a brunette flip, making her mark as "Classic With a Twist." An African-American version of Jacqui is available as "Club Hopping Coquette Jacqui," resplendent in a teal, ruffled jumpsuit and sensational strappy sandals.
"The designers at Alexander see the runway shows in Europe and here at home," observes Sally Fischer, PR specialist and doll aficionado, "and therefore they bring a real authenticity to each new collection. In fact, last year, Women's Wear Daily featured Madame A on its cover. All of Madame Alexander's fashion dolls look like they stepped straight off the runway. Plus, the Cissy dolls come complete with their own individual set of lingerie. That's an added bonus to collectors."
A fashion show just wouldn't be a fashion show without a sprinkling of star power in the first few rows. The same way that Sarah Jessica Parker, Sienna Miller and Lara Flynn Boyle are photographed and given VIP treatment by the press, the ADC designers have invited a host of well-known, recognizable characters to their 2006 line. "I am amazed at how our design team was able to take a best-selling collection, which seemed to be the industry standard, and make it even better," boasts David Morgenstern, vice president of Madame Alexander sales. "I'm talking about the Wizard of Oz collection, and how our design crew has breathed new life into it for 2006. The witch portion of the Oz collection has such fantastic detail given to it this year. The Wicked Witch of the East, of the West, and Glinda are all breathtaking."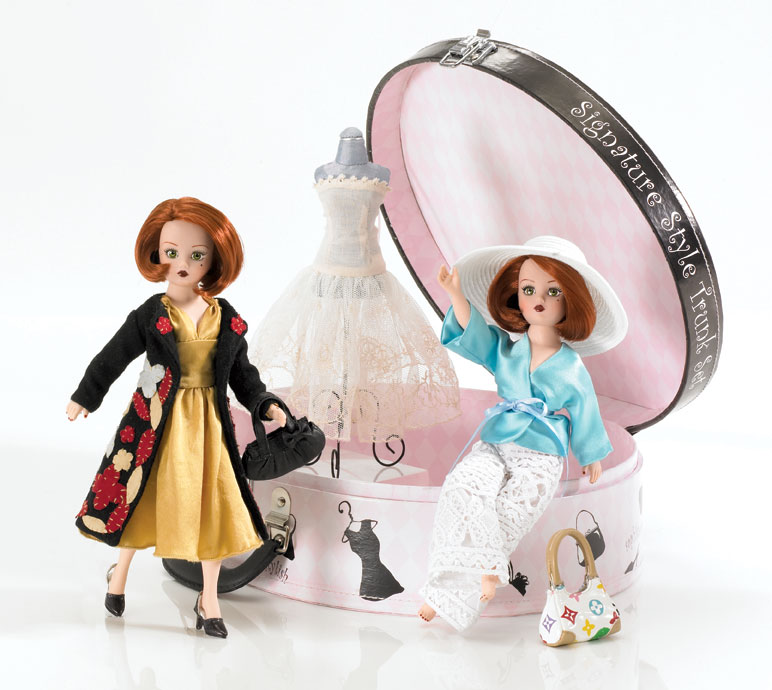 Sometimes it must be good to be bad, and senior designer Cruz seconds this naughty mantra. "It's a lot of fun to see 'the other side' carried out so well," she notes. "With our Disney line, too, we have Disney Villains available. Snow White's Evil Queen, Cinderella's Wicked Stepmother, Sleep­ing Beauty's Maleficent—they're all here in 2006, and they are all carefully re-created. They are evil and beautiful. It's a nice change of pace for us."
Before you worry that Madame Alexander has crossed permanently over to the dark side, Morgenstern is quick to point out that the wholesome March sisters from Little Women and the always-popular Wendy are returning with grand gusto. "We introduced 'Jo's Trunk Set' last year to terrific reviews, and this year's trunk set is even better. 'Amy's Paris Trunk Set' is just the latest in our line of Little Women-inspired creations. Our designers have been dressing the Marches for almost 80 years now." The Shapiros, of The Toy Shoppe, have a deep relationship with Alexander and work with the company on several exclusives for their Virginia-based store. They, too, are smitten by the Paris collection for tiny Amy. "Madame Alexander has always done marvelous work with their trunk collections, and we are thrilled with the Amy set for 2006. This year's edition continues the series in such fine style. We couldn't be more pleased."
The Shapiros also take their hats off to the ADC's take on the Red Hat Society: "We think both versions of the Red Hat dolls will become very, very popular and will sell out quickly." To honor the ladies who don red hats and refuse to settle down, Alexander has fashioned "Signature Red Hat Cissette" and "Red Hat's Little Lady," featuring impish Wendy.
"The Red Hat Society has a huge following," observes Fischer. "The society began when a spirited woman decided to greet middle age with gusto, verve and humor. The Alexander dolls this year wear those signature red hats and they capture all of the fun and the liberated attitude of this international society."
Wendy, who normally is associated with youth, springtime and being guileless, does make a leap forward with her red-hat getup, but she hasn't left her in­génue status behind for good. She is featured prominently in the new line dressed as Annie Oakley, a gymnast, a competitive biker, a magician and a camper. She also shines as a lover of all four-legged creatures, and the designers have paired her with a menagerie of dachshunds, poodles, kittens and bears.
Cat fanciers have a lot to purr about this year, as well. Alexander has loaded up on the catnip and has attracted a flock of furry feline friends. "French Kitty has been a huge hit with the tween market," Fischer explains. "She's an adventurous sophisti-cat, and she's known for her passion for fashion. This year, 'In the Pink French Kitty,' 'Bon Voyage French Kitty,' 'Muy Caliente Leticia' and 'Pair-A-Dice' are being immortalized."
Cats with a definite joie de vivre and historically accurate depictions of Civil War hero Clara Barton and acclaimed author Edith Wharton are just some of the versatility being offered for collectors this year. "We worked diligently to launch so many new collections and innovative designs this year. We were adamant about appealing to collectors of all ages," Jarvis reveals. "We have dolls that will take you from the cradle, to your first communion, to your walk down the aisle, to an important job at an office or at a magazine. We have babies and brides and dolls that capture past memories, as well as help you to build future memories for you and yours."
For designer Cruz, the bridge that doll collecting can build is best exemplified by "Carousel Melody." "For me, she is a classic Madame doll in every sense of the word. She has soft blond curls, wears a sweet pink voile dress, a fluffy petticoat and Mary Janes. She instantly brings you back to memories of your mom and dad, or grandma and grandpa, putting you on a carousel horse for the first time. And when you were up there and you looked down, the world seemed so small. When you look at Wendy with her horse, you can't help but smile and think of those fabulous memories. I know I have."
And all of us Alexander collectors have done likewise.