(The Toy Fair banner salutes its "Big Apple" location at the Javits Center.)
Wow! I love Toy Fair. It's not an exaggeration or hyperbole. It is an absolute truth of my life. I adore the opportunity to walk the miles of aisles, browse, and then chat with the folks who make the world play. Sure, as the day drives onward, and my feet start to bark — seven hours and still marching, maybe more like mincing — I can't help but smile at the booths bursting with creativity and surprises.
For my first online report of Toy Fair 2017, I'm going to concentrate on some of the international offerings I happened upon. That's one of the highlights of the Toy Industry Association's annual gathering in New York City. It's really a place where global professionals come to chat and show off their wares.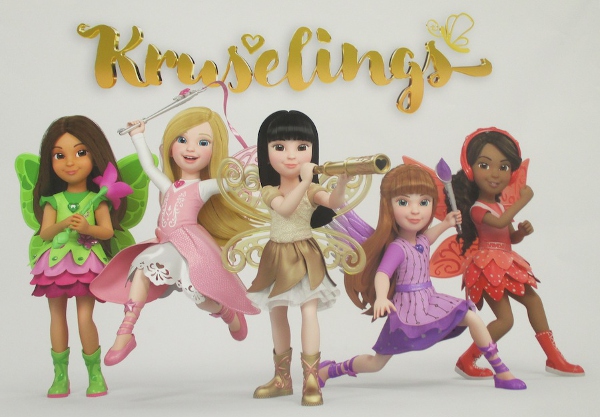 (The Kruselings will be cruising onto store shelves in the fall of 2017.)
One of the exciting prospects I discovered was legendary doll artist Sonja Hartmann has sculpted a line of affordably priced dolls designed for hands-on play, as well as collectability. In tandem with the Käthe Kruse company, Hartmann gave me a sneak peek of the dolls that are set to debut in the fall. "Our plan is to have them in stores in September — October at the latest. We want them available for Christmas shopping," Hartmann explained.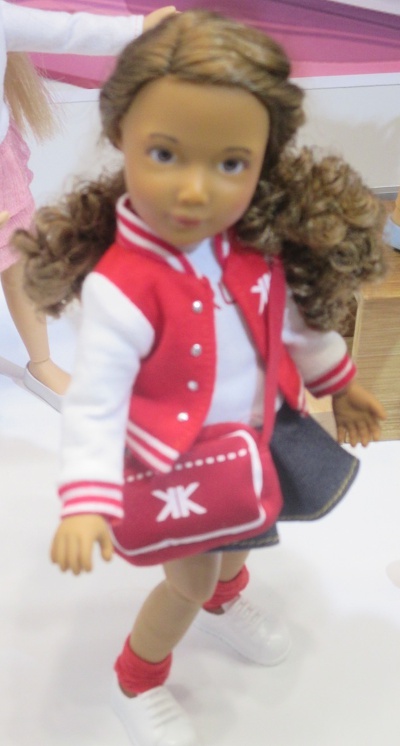 (A close-up of one of Hartmann's dolls for the new Käthe Kruse fantasy line.)
The dolls are part of a brand-new epic storyline that the German company has invented. It revolves around a group of children, hailing from different nations and ethnic backgrounds, who are able to straddle the worlds of reality and the fantastical. They can transform into a band of "fairylike/spritelike" characters called the Kruselings. The dolls are available in both their ordinary human forms and in their supercharged/superheroic alter egos.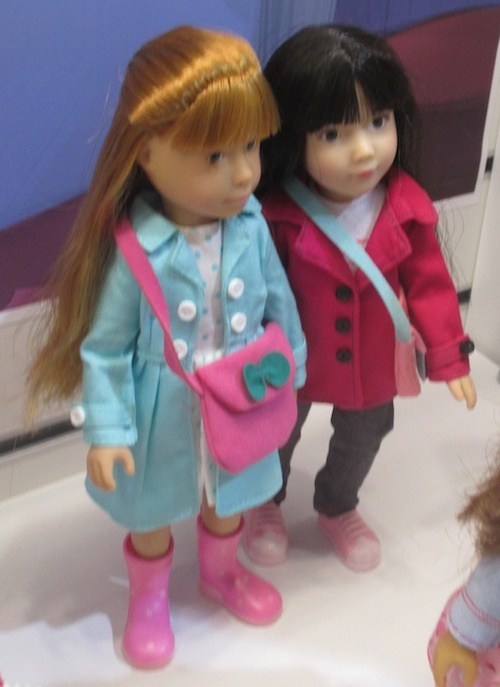 (These two girls from the line represent the diversity of skin tones, hair color, and ethnicity that will characterize the dolls.)
Hartmann is very excited about this project because its retail price is attractive — discussions center around a two-pack of dolls for under $40-and the characters are meticulously manufactured. They look like "real" little girls, and they offer an opportunity for wholesome, innocent play. Even though the girls will become immersed in a universe of the impossible, Hartmann and the Käthe Kruse team want the appearance, the attitude, and the accessories of the girl dolls to remain "real and age appropriate."
"These dolls are initially meant for play," Hartmann said. "I think they will be collectable, and I think all ages will respond to them, but they are meant to be held in a child's hand."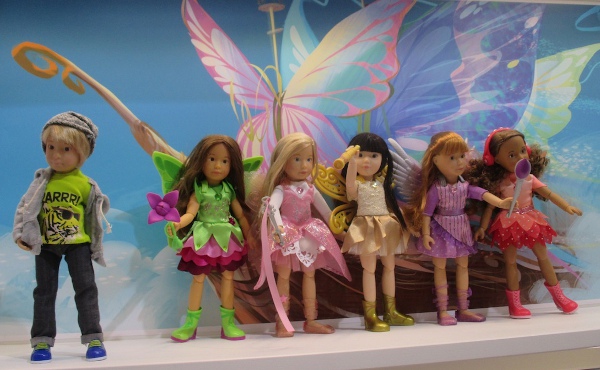 (The full new Käthe Kruse lineup designed by Sonja Hartmann.)
Remaining relatable, even within the guise of fantasy, was a big buzzword at this year's event. Many of the doll manufacturers talked about creating products that share "positive body images" and "encouraging, inspirational backstories." One such company that "talks the talk, and walks the walk" is Arklu, the company that creates the Lottie Dolls.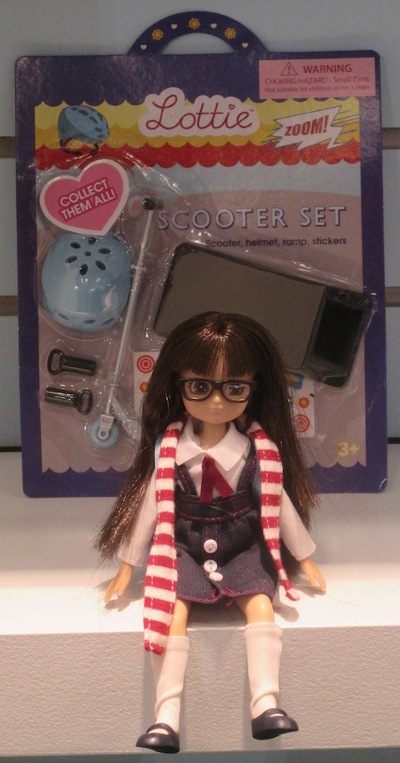 (Lottie Dolls celebrate a smart, clever female character.)
Based out of London, England, with manufacturing in Donegal, Ireland, the Lottie Dolls founders selected Donegal as their production facility because it was so economically depressed. They began their enterprise to help bring a profitable way of life to Donegal's citizens.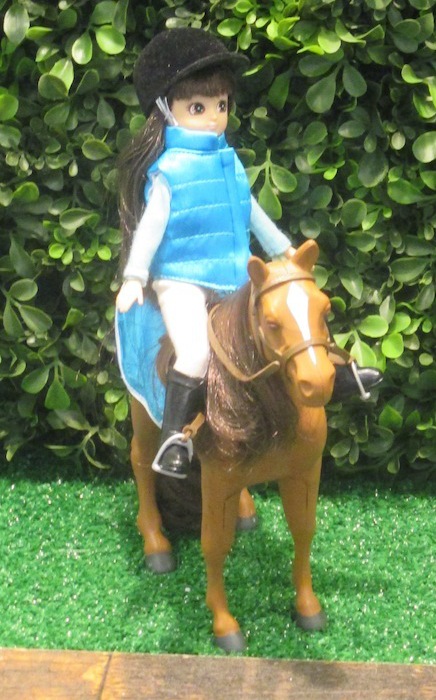 (The Lottie Doll, upon her horse, setting out to see and to impact the world)
The Lottie Dolls reflect a young, inquisitive girl created in the mold of spunky, feisty literary heroines like Pippi Longstocking, Jo March, Anne of Green Gables, and even Harry Potter's Hermione Granger. She lives in a fictional town called Branksea, which is a re-imagining of an actual place called Brownsea Island. Her clothing, accessories, and books are made to be "pro girl" and "pro using one's own mind and imagination."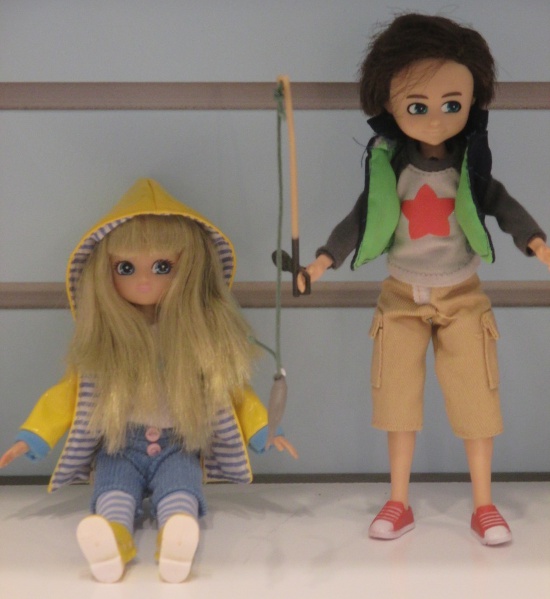 (Lottie and her friends encourage kids to go out and engage with nature. Here they are fishing.)
Another international company that produces beautiful dolls — ranging from babies to toddlers to fashion models — is Spain's Antonio Juan. I had the pleasure of touring their booth and seeing the cute newborn nursery dolls all the way up to the fashion-forward, fierce model dolls.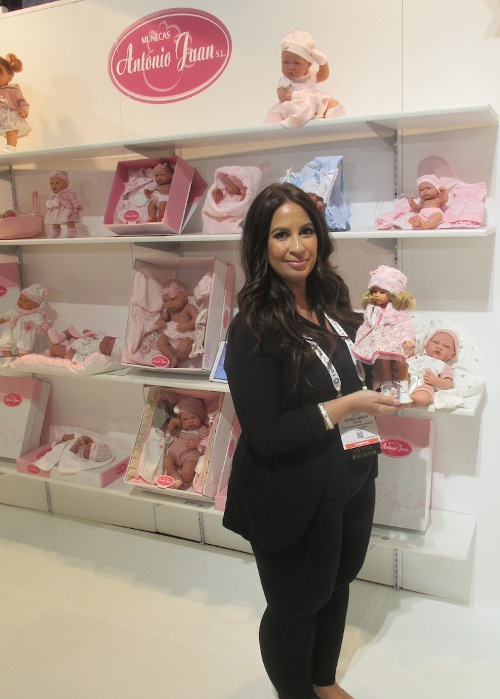 (The Antonio Juan Booth was bursting with babies, and more babies!)
The company began back in 1958, so it will be celebrating its 60th anniversary next year. The array of dolls that they brought to Toy Fair is an indication of their commitment to exceptionally crafted offerings. They also embody their pledge to always dress the dolls in outfits that could be worn by real-life counterparts.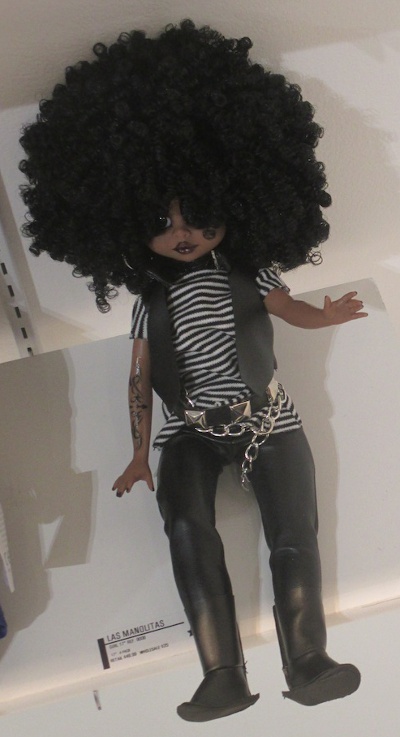 (This Spanish-made fashion doll model is fabulous and funky!)
It's absolutely true. From haute couture, which seems to have emerged from the Milan or Manhattan catwalk scene, to ensembles that will be popping up at neighborhood birthday parties and summer outings, the costuming is exquisite.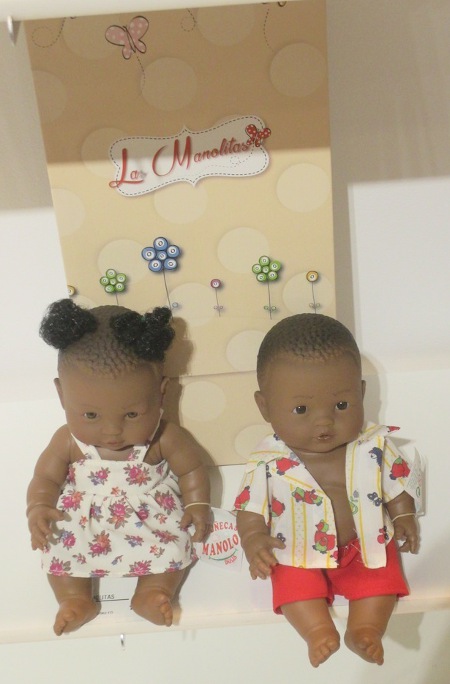 (Direct from Spain, La Manolitas are festive and fun!)
The dolls wear wardrobes that would look at home in any children's boutique or upscale catalogue. Absolutely charming and appealing!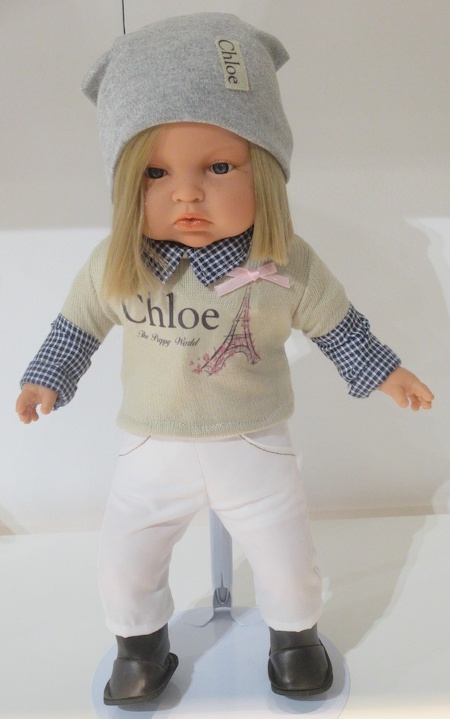 (Chloe, part of Spain's Preppy World of dolls, with her spot-on costuming)
France's Corolle Dolls were on display, bringing their usual "joie de vivre"
into the marketplace. As in years past, French landmarks always playfully beckon the attendees into their corner booth. This year, it was the Eiffel Tower, looming large and beckoning visitors to unwind and admire the delightful "bébés."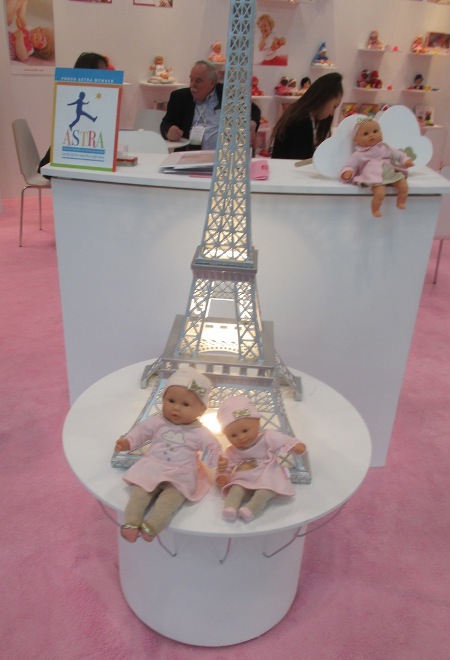 (Corolle Dolls always manage to bring a little bit of Paris to the bustling Javits Center.)
Two of the other nations/companies that I had the chance to drop in upon and explore were Germany's HABA and Canada's My Friend Huggles. The HABA dolls continue to have a cheerful and sunny look about them. They are always attired in the most colorful and vibrant way.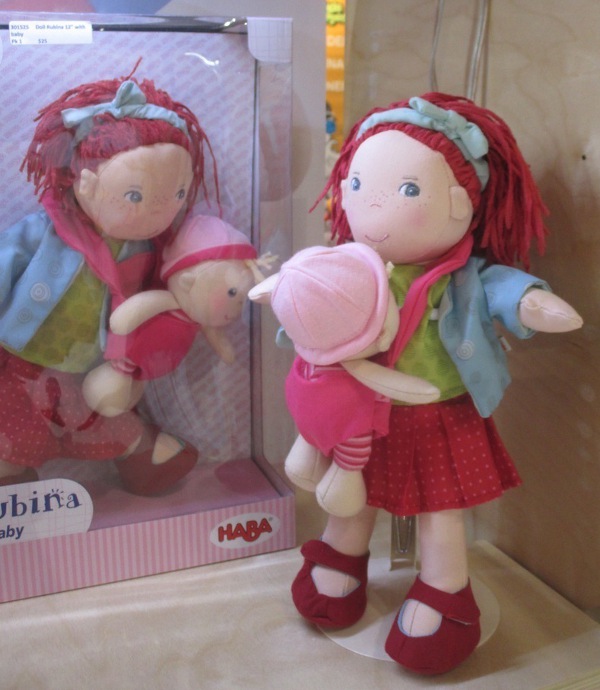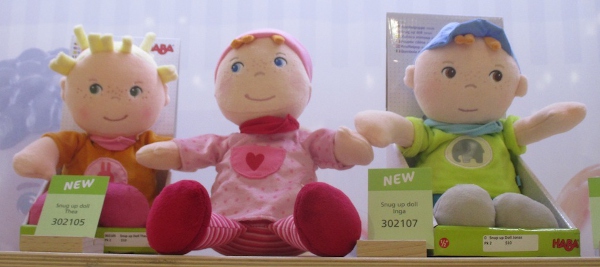 (The Haba booth was a riotous explosion of color and creations.)
My Friend Huggles is expanding their line with new dolls, plush pals, and doll-and-animal sets that strive to carry on the company's mission: "We teach beauty from the inside out . . . " Much of what the firm creates keys into that production philosophy, or as they term it: "huggleosophies."
Creative director Myles Beeby was at the booth discussing the importance of having a doll that not only entertains a child, but also potentially educates and inspires with each interaction: "Everything we make and everything we create follows a simple formula. We want all of our dolls to teach young kids to be better friends, to learn how to share and to cooperate. We want the dolls to be children's friends and to share and exhibit positive values. I think we're achieving that."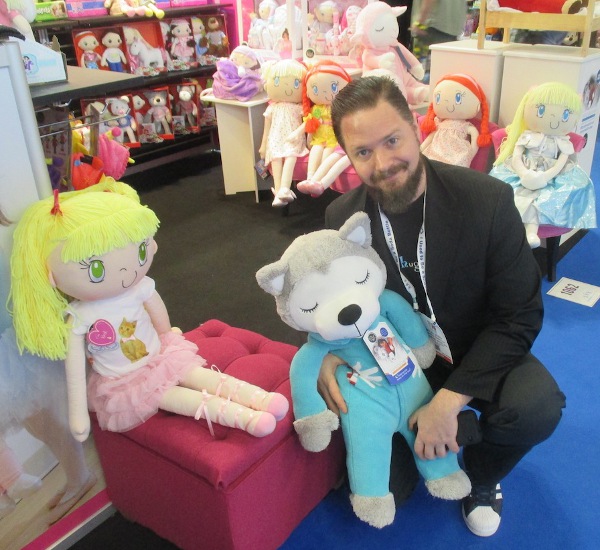 (Myles Beeby cuddles up with his Huggles pals.)
Brenda Katz, the company founder, stresses the need for toys to be a lasting and positive influence on a child's life. I thought about my own make-believe companions during my youth and wholeheartedly agree. The playthings of your yesteryear definitely help to build the "you" of today and tomorrow. That's something to consider as we select the items that fill our children's days and their lives.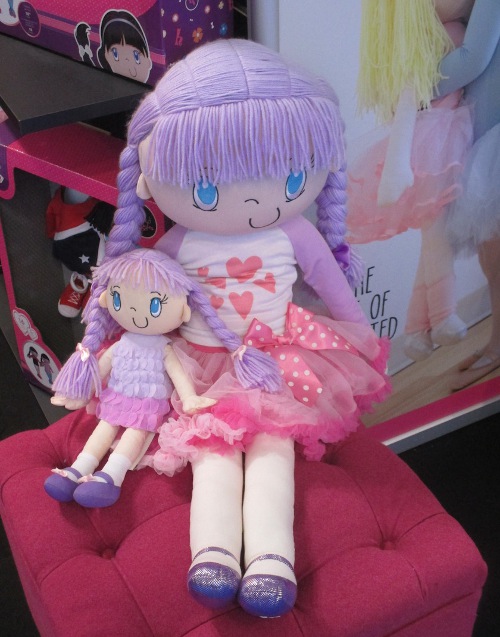 (My Friend Huggles hopes to make playtime into character-building time.)
Look for next week's blog where I catch up with the American toy makers and doll shakers who came together from February 18 through February 21, 2017!

(The end of the day at Toy Fair — seven hours of walking, but I'm still smiling!)