Launching her career as a reborn artist in 2010, Susan Gibbs switched to silicone babies in 2014 and has become a highly regarded teacher as well as an award-winning creator. Though the global pandemic put a halt to her in-person workshops and classes, she was able to continue her online courses in silicone painting. This year she added something new: a contest open to her online students from 2020 through 2022.
"I believe learning happens best when you're excited about it. Contests spark creativity and increased effort," she said. "It's also a way for students to assess their strengths and weaknesses, which increases quality of work.
"I teach two online courses: Comprehensive Silicone Painting and the Advanced Silicone Class. The comprehensive course covers the basic technical information on silicone, kit preparation, color mixing using primary colors, applying undertones and surface tones using my stippling technique, blushing and mottling, details, troubleshooting, and matting.
"The advanced course covers mouth opening, freehand silicone sculpting of a tongue, making just-cut and healing umbilical stumps, and putting in armatures and drink-and-wet systems post-pour. It also includes paint mixing for a micro-preemie skin tone, lanugo, 3D veining, and fine details."
For the contest, entrants were required to send in 10 unedited photos of their work on a silicone baby doll. In addition to full-body front and back shots of the doll, photos included close-ups showcasing details like nails, eyebrows, and veins. Gibbs evaluated the work for color use and saturation, depth, quality of detailing, finish, and overall realism. Winners were selected in three different categories based on artist experience:
"Newbies were put in the Intermediate category. Prototype artists and silicone painters with two or more years of experience were put in the Masters category. Students from the advanced course were in the Advanced category," Gibbs explained. The three winners of this inaugural contest are shown here, along with their winning entries. Gibbs said that she hopes to hold another contest for her students at the end of this year.
"I announce new courses on my Dizon Designs & Doll Works page on Facebook (www.facebook.com/dizondesigns) and my Instagram pages when I open registration for a new class. I try to hold classes every month if I get at least 10 students per class."
In addition to her teaching work, Gibbs stays busy with her own art. "After a two-year closure due to the pandemic, I'm back to renting out my dolls as stand-in babies to local filmmakers. I'm also working on dolls for a medical facility to be used as models for their NICU equipment," she said. "I continue painting prototypes, as well. Aside from silicone art, I still make bassinet-bags for baby dolls. My newest line is the Logo Bags — bassinet-bags with the reborn artist's logo print."
Susan Gibbs
Dizon Designs & Doll Works
dizondesigns.com
Facebook: Susan Gibbs; Dizon Designs & Doll Works
Instagram: dizondesigns.and.dollworks
YouTube: Susan Gibbs
TikTok: @susangibbs08
Intermediate Winner: Mackenzie Reeder
A reborn artist since 2018, Reeder started painting silicone dolls at the beginning of this year. "I really never had the desire to paint silicone until seeing the ad flyer for Susan Gibbs' class," she said. "I remember falling in love with how real the baby on the cover photo looked. That night I made the best impulse decision — to take the class — and bought all of my supplies just three days before the class started.
"I plan on solely painting silicone full-time moving forward. I want to continue to master the art and improve with each doll I create."
Mackenzie Reeder
Kenzie's Dolls
Instagram: @kenzies_dolls
Masters Winner: Ashley Marie Thacker
Thacker has been making vinyl reborns since April 2015 and started painting silicone in fall 2019. "I've always had a love for dolls, since I was a little girl. As I grew older, I discovered Ashton-Drake dolls, then found reborns after looking for a more realistic, lifelike doll," she said. "I was obsessed with reborns that had micro- and mono-rooted hair — to me, these were the details that always made them look so realistic."
Thacker was inspired to try making reborns herself after a friend shared a Facebook post about a local woman who had her own reborning business. "I have a background in art, which helped get me started, along with knowledge I gained from tutorials available on YouTube. After learning all I could with tutorials, I bought a reborning kit from HoneyBuns Reborn Supply with birthday money. I have been hooked ever since! So a hobby turned into a business after a few years, and it hasn't slowed down.
"I never thought I would ever paint silicone dolls. It was too complicated, and I didn't know many silicone artists at the time. I found out fast that the mediums are vastly different and silicone was so hard to work with — it was like painting with honey.
"The following year COVID hit and there were no indoor doll shows. That summer I noticed Susan was offering her classes online. I knew I had to take it. I wanted to learn better techniques and everything I could about silicone to be confident with it. I am so grateful to Susan for sharing her knowledge. I would not be where I am today in the silicone doll world if not for her. I also never dreamed of taking first place. I am a little fish in a big pond, and that usually doesn't happen to a small-town girl. I can't thank her enough. She is a wonderful teacher and such a sweet person!
"I love what I do and my ultimate goal in this art form is to make dolls as lifelike as possible. I just want to spread love and joy with my babies."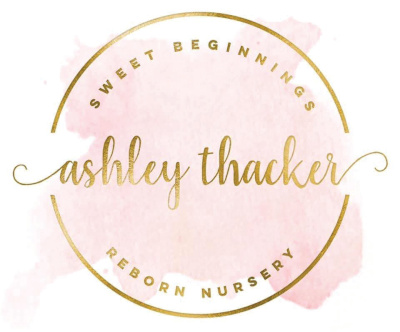 Ashley Marie Thacker
Sweet Beginnings Reborn Nursery
Facebook Group: Sweet Beginnings VIPs
Instagram: @sweetbeginningsreborns
Advanced Winner: Adriana Moreno
Moreno was introduced to reborns by her daughter. "Once she showed me the dolls, I was astonished at how real reborns looked," she recalled. "After acquiring a couple for my daughter, I decided to learn how to make them. I began researching and on June 20 of the year 2020, I put the first brushstrokes on vinyl — my first reborn doll would be born a few days later.
"When I became interested in painting silicone babies, I learned about Susan Gibbs' work through the internet and was captivated by the realism of her work. I took Susan's comprehensive silicone painting class, and a few months later I took her advanced painting class."
Moreno said she's taken 10 classes with renowned artists. In addition to Gibbs' silicone courses, she's taken two classes on hair rooting, two on sculpture, and four on vinyl painting. "I continue to learn different techniques from different artists of different nationalities. I remember my favorite toy as a child, a doll that looked like a newborn baby, with lots of wrinkles, and I loved buying baby clothes to put on my dolls.
"I'll continue learning different techniques, taking more courses to enrich my work and provide my clients with the greatest possible professionalism. Sculpting babies is something that I am passionate about, and I hope to present you a sculpture in the near future as I continue to express myself through art."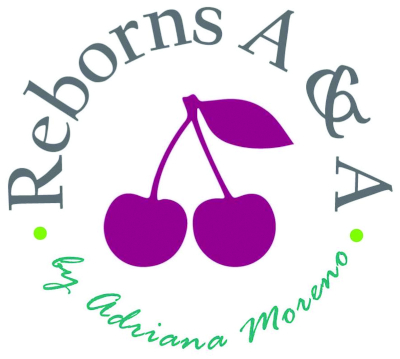 Adriana Moreno
Reborns A&A
Etsy: RebornsAA
TikTok: @rebornsaa
Instagram: @rebornsaaart
YouTube: Reborns A & A