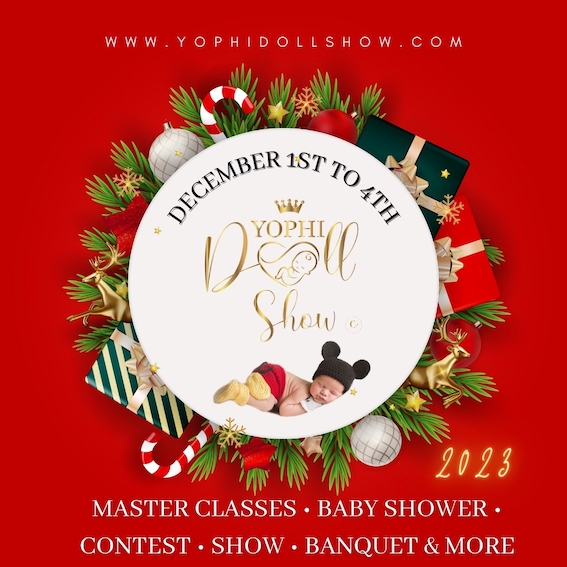 Yophi Doll Show in December 2023. It will be taking place in December in Orlando, Florida. The dates will be December 1st – 4th with the show portion taking place on Sunday 3rd and Monday 4th, but classes will take place on the 1st and 2nd. The theme is a Disney Christmas with Mickey and Minnie. Oh, So much fun.
The event will be at:
Avanti Palms Resort and Conference Center
6515 International Dr Orlando, Florida 32819
Reservations: 866.994.3157
Classes will be on December 1 and 2:
Master Class in Fantasy with Jodie Lombardo from Australia
Jodie Lombardo will teach you how to create an ethnic and/or fantasy colored baby
Master Sculpture Class with Alejandra de Zuñiga
Master Class in Microrooting with Paqui Galan From Spain
Silicone Painting Master Class with Yophi Babies
Paint an Ethnic Toddler with Sueli G Cotton from Germany
Beatriz Clemente course with BC Heat set Paints
The events that will take place will be the
Baby Shower – Ugly Xmas Sweater Party! will be on december 2
Meet & Greet with the artists on December 3
Awards Banquet on December 3
(Trophy baby is made by Artist Cassie Ann Brace)
And a Surprise Party on December 4
The days of the Expo will be December 3 and 4, with VIP entry on December 3, entering one hour before the general public and with a Goodie Bag.
There will be over 70 Vendors or Exhibitors from all over the world to showcase their reborns and other dolls. Here is a list of those artists, that plan on attending the show.
Booth
Elise Rodriguez
Susan Gibbs
Jennie Lee
Maddie Bugs Reborn Nursery
Marion White
Irresistables-Pumpkin Doodle Babies
IRHSP-Irresistables Heat Set Paints.
Irresistables
Tiffany Acosta
Sueli Gonzalez Cottone
Jorge L Aguilar
Laura Tuzio
Beatriz Clemente
Yophi Babies
Paqui Galan
Alejandra de Zuñiga Babies
Claudia Massarioli
Cyndi Weaver Wilson
Angie Lovcik
Julie Smith McOmber
Lattishia Smith
Beatriz Serna
Sandra Guerrero Rodriguez
Virginia Comish
Maria Lynn Grover
Cassie Ann Brace
Shiloh Birmingham
Adriana Moreno
Esther Romain
Jane Cotsamire
Lorna Miller Sands
Danae Culbreth
Colette Bivens
Kasie Rizan
Dawn Donofrio
Samantha L. Gregory
Nikki Jonhson
Nina Neeley
TABLE
Jodie Lombardo
Tamara Bailey
Julie Ann Beckman
Sharon Thibodeaux
Jacqueline Kramer
Elisse Yophi
Jennifer 
Doris Turner
Shelby Hammond
Flory Castro
Cristel Fernandez
Dawn Stidd- Sunshine´s Nursery
Monika Pendygraft
Paola Lobato Faria – My babyordoll
Lisa Jetton
Patricia Rowe
Anna Peterson
Jennifer Price
Melody Hess
Sharon Thibodeaux
Deannea Tranter
Jill Defenderfer
Lawrence Manning
Linda Steinert
Raine Bond
Noemi Smith
A spectacular Show many International Artists.
Event Promoter
Lorraine Yophi
Promoter E-Mail
yophidollshow@gmail.com
Promoter Website
www.yophidollshow.com
CLICK HERE TO BROWSE ALL
DOLL SHOWS