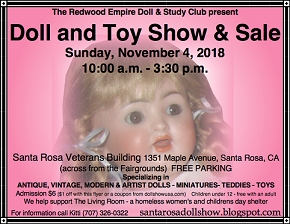 The Redwood Empire Doll and Study Club invite doll and toy lovers and collectors to their annual Doll and Toy Show and Sale on Nov 4, 2018 between 10-3:30. Our dealers sell a large assortment of antique, vintage, modern and artist dolls and accessories, as well as vintage toys and miniatures.
The event is inside the large auditorium at the Veteran's Memorial Building, 1351 Maple Avenue in Santa Rosa. There is plenty of free parking. The venue is directly across from the Sonoma County Fairgrounds. Admission to the public is $6 or $5 with any printed ad or flyer. Children under 12 Free. The club helpsThe Living Room, a day shelter for homeless women and children. The Doll Club is non profit. Colleen Richardson from The Doll Mercantile in Petaluma will be offering 2 free doll appraisals between 11 to 1 which is a $10 value.
The Redwood Empire Doll and Study Club is a Sonoma County club with members from Healdsburg, Petaluma, Sebastopol, Windsor, Sonoma, Rohnert Park, Bodega as well as Santa Rosa. Check the show out on http://santarosadollshow.blogspot.com/ or our Facebook page https://www.facebook.com/Santa-Rosa-Doll-Toy-Show-Sale-120418694667744/
There are sales tables available for doll, doll related and collectible toy dealers, hobbyists and sellers. Call Kitti 707 326 0322 for a contract or email Kitti J. Perry, kittiperry@msn.com An 8ft table is $50.
Come on out for some early Christmas shopping. You are sure to find something for yourself or to give as a gift.
Event Promoter
Nina Lowrey
Promoter E-Mail
santarosadollshow@gmail.com
Promoter Phone
707 326 0322
CLICK HERE TO BROWSE ALL
DOLL SHOWS