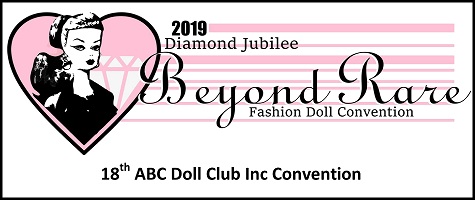 The ABC Doll Club Inc is holding a fashion doll convention on 13-15 September 2019 at the Crowne Plaza Hotel, Surfers Paradise, Queensland, Australia – all are welcome. The convention theme is "Beyond Rare" with diamond theme.  Events include:
Friday evening Early Bird welcome cocktail party 'Black Diamond Event' starts at 6.30 pm with activities and prizes (room sales available)
Saturday 'Pink Diamond Diamond Day' includes convention registration bag, games, raffles, workshops, entertainment, doll competition (entry free)
Saturday evening  '60th Diamond Anniversary Banquet'  with Silent Auction, raffles, entertainment, presentation of delegates' convention dolls (as purchased)
Sunday 'Beyond Rare Affaire' including presentation: next convention 2021 – Adelaide, raffles, workshops, sales room.
meals included except breakfast/alcohol
More details including international application information for non residents of Australia on our website.
Enquiries need to be directed to Convention Secretary Nerida Stig, beyondrare2019@gmail.com and www.abcdoll.org – event sponsored by ABC Doll Club Inc (a national club based in Australia).
Event Promoter
ABC Doll Club Inc
Promoter E-Mail
beyondrare2019@gmail.com
Promoter Phone
610439389101
CLICK HERE TO BROWSE ALL
DOLL SHOWS