A few days ago, I received an e-mail from a friend, who wishes to remain anonymous, because of an impulsive purchase that he felt only I would understand. (Yes, it was a male pal, and that's the only identifiable info I'll divulge.) He was extremely distraught because he was looking to purchase one thing—just one simple NECESSARY household thing—on eBay, and instead he ended up buying a trio of "I Dream of Jeannie" dolls. As he wrote to me, "I think this could end up becoming a nightmare!"
The three dolls weren't related—two were vintage and the other modern—but they were linked by their interpretation of the lovely and loyal genie portrayed by Barbara Eden back in the 1960s.
To say that Eden played Jeannie is an understatement; she embodied it, and the emphasis is on "body."
During an era where lots of sitcom husbands and wives were shown sleeping in side-by-side twin beds, Jeannie blazed across television screens. She was blond, bosomy, belly-baring, and pretty much willing to do anything for the astronaut with whom she lived. Yes, she called the man who found her magical genie bottle her "Master," and the submissive quality must have been a thrill for every red-blooded man who ever watched the program. http://www.youtube.com/watch?v=8RUNW-J4PM4
My friend was a boy when this was on, and he recognized her nubile ways, even though he was way too young to act upon them. (He also grew up to prefer the majors of the world to the majorettes, but that's a whole other story.) However, Jeannie became a special symbol to him: she represented happy evenings at home, gathered around the black-and-white television set, then the color console, with his whole family laughing and chatting. It was his father's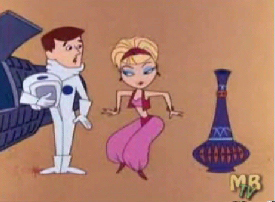 favorite show—hmmm, I wonder why?—and the sight of Barbara Eden always prompted his dad to say, "Now, that is a woman!"
Drawn into this slippery slide down memory lane, he couldn't help himself when he saw the incredible likenesses of her for sale and took part in the auction. He won, and now the dolls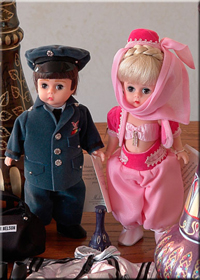 are on their way to him. They're set to arrive this week, not by magic flying carpet but by the always reliable UPS truck.
Why my friend is so upset is because he had made a new year's resolution NOT to buy any more impromptu purchases. Rather than acquiring more and more dolls, he was going to keep a "dream" journal where he'd record the dolls he was yearning for, thinking about, desiring. At the end of every month, if he still felt the same way about any of the mentioned dolls, he'd begin a new page devoted to that doll, and so on, and so forth, until he had weeded his list down to the few dolls he JUST had to have.
If all went according to plan, he'd buy maybe three or four dolls for the whole year. Flash forward, 2011 is only a few weeks old, and he has already bought three dolls. He is angry at himself for being so weak, embarrassed that he couldn't keep a commitment, and also afraid about how to explain the arrival of these dolls to his partner. He had made a big, vocal deal out of changing his ways in the year ahead.
I told "Cameron" (not his real name, I've dubbed him this in honor of the brilliant Eric Stonestreet from "Modern Family") that he shouldn't apologize; he shouldn't fret. Resolutions aren't meant to destroy you; they're not supposed to take the essence of "you" out of you. A resolution is supposed to help a person achieve a goal or to improve upon a nasty habit or a horrible vice. Was his doll buying breaking the bank, destroying his family's harmony, causing tension to override his house's happiness?
The answers: no, no, and no!
So, why did Cameron decide to make this vow to pare down his doll purchasing? He admitted because it seemed to be the most self-centered thing he did: spending hard-earned money on playthings.
"After all, what self-respecting man NEEDS a doll?"
Probably none. And no self-respecting woman NEEDS a doll, either. Dolls are not staples of life. They are not foodstuffs or necessities. They are luxuries, and more than that, they are wish fulfillments.
For many people, finding the doll that has eluded them all their life is a dream come true. So, Cameron's dream journal was perfectly named. He was only "off' in how he was attempting to use it, as a means to crush a dream rather than pursue it.
We chatted about his plight, and he's decided that scooping up three Jeannies may not have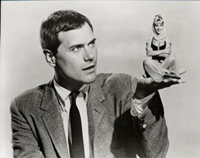 been a rational decision, but he no longer has to dream about owning another one. He had a dream and he achieved it.
To make him feel better, I explained that Barbara Eden would have wholeheartedly approved of his recklessness. She has a whole collection of dolls and memorabilia saluting her legendary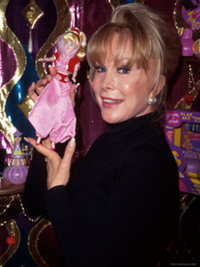 role as the guileless genie. If Eden has them in her own personal collection, why shouldn't Cameron? After all, even his dad would give this decision a thumbs-up. "Barbara Eden—now that is a woman," his father used to say.
What about "Barbara Eden—that is a collector!" It sounds good to me.
How do you feel about a new year's resolution to alter your doll-buying habits? Have you ever done it? How did it work out for you?  Or, are you comfortable with this outlet for your dreams and desires? All of us at DOLLS want to know.
Photo Captions
Caption: "I Dream of Jeannie" opened each week with a cartoon version of how she came to find herself living with a swinging bachelor astronaut. The pairing of Major Nelson and Jeannie pre-dated the "will they or won't they" wonderings of "Cheers" and "Moonlighting." Madame Alexander has made a cute version of the out-of-this-world power couple. [Top-right]
Caption: Jeannie was able to shift sizes effortlessly on the comedy series. It helped her fit back into her opulent, deluxe genie bottle. Here, the character is nestled in the major's hand. [Bottom-left]

Caption: Decades later, Barbara Eden proudly shows off one of the many dolls crafted in her likeness. [Bottom-right]