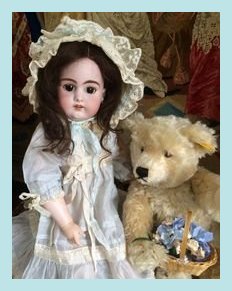 World Doll Day Shows and Mary Senko presents:
World Doll Day Shows Annual Jubilee during "Doll Week" in Bellevue, WA
Featuring: Vintage, Collectible, Modern, and Antique dolls, bears, miniatures, and toys for 3 days at the Bellevue Hilton.
Hours: Saturday, July 29th, 2023, 5pm to 10pm
Sunday, July 30th, 2023, 10am to 5pm
Monday, July 31st, 2023, 10am to 3pm
Check our website for information on deluxe hotel rooms priced for our event to stay the weekend.
World Doll Day Shows are family-friendly, safe shopping events featuring: Vintage, Collectible, Modern, and Antique Dolls, Bears, Miniatures, and toys.
Admission is $15.00 per day 12 and under free.  Discount coupons are available on the DollShowUSA.com website,  for $2.00 off, and $35.00 Pass for 3 days with discount coupons also available.
We offer valuations, stringing at most sites, Raffles, Door Prizes, Free books and magazines to help collectors learn and grow their collections.  Enjoy an eclectic mix of dealers offering something for everyone, and food on the site makes for 3 great doll days!
Event Promoter
Mary Senko
Promoter E-Mail
mary.senko@worlddolldayshows.com
Promoter Phone
425-330-1770
Promoter Website
http://worlddolldayshows.com/
CLICK HERE TO BROWSE ALL
DOLL SHOWS