Children in the 1950s loved dressing their eight-inch Ginny in her many outfits.  Riding on the crest of the hard plastic doll wave in the United States, the first Ginny appeared in 1948, and went through several changes in the 1950s. Whether she was a painted eye strung doll, a sleep eye strung doll, a walker, or a bent knee walker, the little sweetie was always marked "VOGUE" on her head and "VOGUE DOLL" on her body (a patent number also appeared on the walking dolls). Even more versatile than her incarnations, were Ginny's darling outfits. Each year little girls could look forward to Vogue Doll Company's offerings of Ginny outfits.
It's little wonder that little girls and their mothers fell in love with Ginny and her clothing. Not only was Ginny one of the first "fashion" dolls in the hard plastic doll era, she was one of the first to have a family. After all, if dressing up Ginny was fun, imagine how much more entertaining it was to dress up a whole clan of fashionable cuties!
Ginny's originator, Jennie H. Graves, founder of the Vogue Doll Company, introduced Ginny's baby sister, Ginnette, in 1955. Ginnette was an all vinyl doll; she was the same size as Ginny but featured curved legs and arms. A drink-and-wet doll, Ginnette is marked "VOGUE DOLLS INC" on her back.
Like Ginny, Ginnette had many outfits that could be purchased separately. Among her ensembles were adorable baby rompers, snowsuits, overalls and party dresses. Grave's daughter, Virginia Graves Carlson (for whom Ginny was named), designed all the outfits for both Ginny and Ginnette.
In 1957, the Vogue beauties welcomed Ginny's teenage sister into the family fold. Hard plastic, 10½-inch Jill became nearly as popular as Ginny and is still sought-after by today's collectors. Little girls, crazy about Jill's fabulous teenage wardrobe and accessories, loved imagining themselves as a sophisticated teenage girl with fancy outfits and accessories. Jill, a walker with knees that bent, was produced with blonde, brunette or auburn color hair in either an angle cut or ponytail saran hairstyle. Jill, who featured pierced ears, could even wear earrings.
Jill, who came marked "VOGUE" on the head and "JILL/VOGUE DOLLS/ INC/MADE IN USA/C 1957" on the back, had wonderful teenage outfits such as "Record Hop," blue jeans, a hostess outfit of velveteen slim-Jim pants with cummerbund, a rodeo outfit complete with gun in holster, prom gowns and a Dynel evening stole. Accessories, which could be bought separately, in­cluded nylon stockings, a panty girdle and bra (in black or white), jewelry and hatboxes. These well-made items were a delight in their fashion style and attention to detail.
Carlson and Joan Cornett, who joined Vogue in 1957, designed Jill's clothing. That very year they planned over 100 outfits for Ginny and her family, complete with matching hats, gloves, shoes and socks.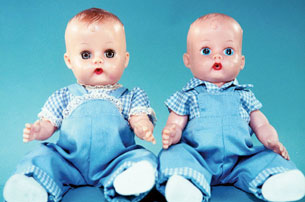 To promote the Vogue doll family idea, Carlson and Cornett designed several matching outfits for Ginny, baby sister Ginnette and big sister Jill. Ginny fans loved the idea of matching outfits for Ginny and her clan, and spent their dollars to show their appreciation. Vogue became the largest selling doll company in America in 1957, garnering over five million dollars' worth of revenues. Vogue's owners knew they had hit upon a successful concept and continued the matching outfits for the Vogue Doll Family from 1955 to 1963.
Vogue added two new family members in 1958. Jimmy, Ginny's baby brother—a Ginnette doll dressed in boy's clothing—and Jeff, Ginny's big brother. Many of Jimmy's outfits matched Ginnette's clothes. (Ginnette's blue overalls had ruffles on them whereas Jimmy's didn't.) Since he was not as successful as Ginnette, Jimmy was manufactured only for one year.
Jeff, the teenage boy doll, has a somewhat indefinite position in Ginny's family. Jeff, an 11-inch vinyl doll with jointed neck, and arms and legs, was marketed as either Jill's boy­friend or Ginny's brother. Jeff's am­biguous position in the Ginny family perhaps represents Graves' in­ten­tion that he serves multiple play options for children. Jeff has black painted molded hair and is marked "VOGUE" on his head and "VOGUE DOLLS" on his back. Jeff also sported outfits that matched those of Ginny and other family members; among the ensembles were a rodeo get-up and a skating outfit. His current interest to collectors is that he completes the Ginny family.
Vogue wasn't done introducing friends and family for Ginny.  In 1959, the company released Jan, an all vinyl 10 ½-inch teenage doll with a swivel waist. Meant as a friend for Jill, Jan wore Jill's clothing.
Vogue went on to add a line of dolls in 1960 called Ginny's Impish Cousins—Brikette, Li'l Imp and Wee Imp (really an eight-inch Ginny with a bright orange wig and freckles). Li'l Imp and Wee Imp's clothes matched one another's, but not those of the outfits of the rest of the Ginny line.
Vogue always used high-quality fabrics for their clothing such as printed and polished cotton, felt, waffle piqué, brocade, velveteen, taffeta and cotton knits on their dolls' clothing. The clothing was always finely finished with lace borders and trimmings. The dolls all sported hats with most of their outfits. And it didn't stop at clothing. Ginny, Ginnette and Jill had matching furniture and accessories too— wardrobe closets, chests of drawers and vanity tables (Ginny's furniture was pink; Jill's was lime green, and Ginnette's was white with a pastel animal motif).
Ginny and Jill even had matching jewelry. Ginny's jewelry was plastic but little girls could pretend that the various colored necklaces and bracelets were real emeralds and rubies. Jill however had "real" rhinestone, pearl and colored stone jewelry. Ginny and Jill even had matching eye­glasses and pocketbooks.  Everything a doll—and her owner—would ever need to play dress-up. To learn more about Ginny, Jill, Ginnette and the entire Vogue Doll family, see Judith Izen's Collector's Encyclopedia of Vogue Dolls.